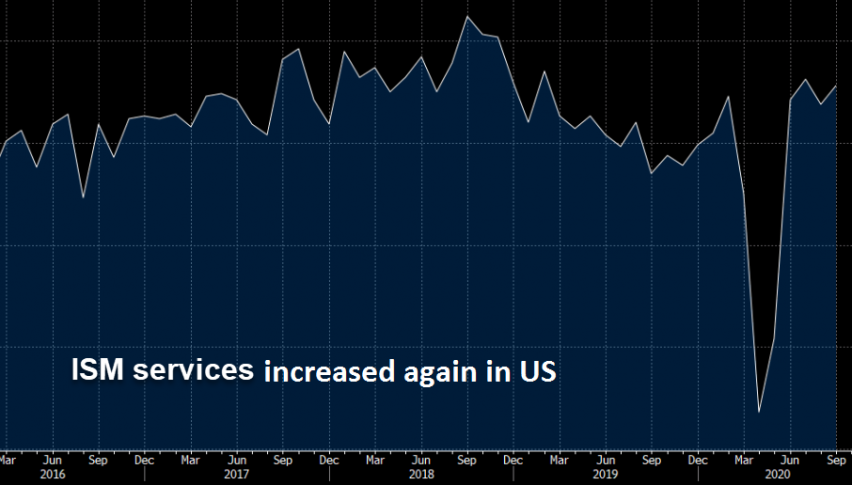 ISM Non-Manufacturing Shows That the Economic Rebound Is Still Going in the US
The economic recovery started out quite strong all over the world during May and June, but since July, the rebound has slowed in Europe, as well as in other places. However, it remains strong in the US, despite all the mayhem over there before the general elections, which are fast approaching.
ISM non-manufacturing indicator surged in July, but cooled off a bit in August, and it was expected to cool off even further in September, but instead, it posted yet another increase last month, getting above pre-pandemic levels and confirming the good shape of the US economy. Yet, the USD didn't rally after that report was released; in fact, the buck turned lower. Traders are now more concentrated on the US stimulus bill which might be approved soon.
September 2020 ISM Non-Manufacturing Index
September ISM services index 57.8 vs 56.2 expected
August ISM services index was 56.9
Details:
Business activity 63.0 vs. 62.4 last month
New orders 61.5 vs. 56.8 last month
Backlog of orders 50.1 vs. 56.6 last month
Employment to 51.8 from 47.9 last month
New export orders 52.6 vs. 55.8  last month
Imports 46.6 vs. 50.8 last month
Supplier deliveries 54.9 vs. 60.5 last month
Inventory change 48.8 vs. 45.8 last month
Inventory sentiment 55.4 vs. 52.5 last month
The details of the survey are even better than the headlines, with new orders and employment both up solidly.
Comments in the report:
"Business has been fairly stable over the summer; however, there is still a great deal of uncertainty as we move into fall and winter [and] how our sales volume will be." (Agriculture, Forestry, Fishing & Hunting)
"Our industry is facing a bleak outlook, as the Hollywood studios have pulled back almost all of their content from October and November and moved it into next year. Coupled with the state health mandates restricting our attendance, we expect to operate at a loss in 2020 and 2021." (Arts, Entertainment & Recreation)
"Work orders are improving rapidly. Lack of available labor is having a significant impact on our ability to fulfill orders." (Construction)
"As a public state university, our economic forecast is dependent upon our campus remaining open and students being on campus. Currently, our students are on campus, but we have a reduced footprint with a 25-percent decrease in students living in university-provided housing. Enrollment was down 2 percent and most attribute that to COVID-19. Many students choose to stay close to home and attend classes at their local university or community college. Overall, our revenue will be down slightly this year, as long as our campus remains open. If we have to send students home due to a COVID-19 outbreak, then we will experience a drastic reduction in our revenue." (Educational Services)
"Insurance industry will experience some impact from weather and protest-related property damage and business interruption." (Finance & Insurance)
"Elective procedures remain at near-historic levels, even with periodic and small [coronavirus] spikes within the region. Our organization is rolling back and approving some – not all – of the capital projects previously approved for this year, and starting to regroup and plan/budget for 2021. We continue to have furloughed staff in more administrative roles than clinical, and shared services staff that are working well in the alternative work environments will not return until (at the earliest) mid next year. Our productivity remains high, possibly higher, than when we are in our offices, at least for shared-services roles that are having no information technology [IT] issues. We are starting to see an increase in backorders and rejections from our main vendors. End-of-year typically brings more discontinuations and catalog consolidations from vendors, and on top of COVID-19 product issues, resources are being stretched further again." (Healthcare & Social Assistance)
"Activity level is holding steady, with optimistic outlook." (Mining)
"Customer confidence creeping back as a belief in the end, or perhaps taming, of COVID-19 increases; however, it comes with a high degree of caution regarding uncertainty in the marketplace and a reluctance to commit. Exploratory conversations are increasing, but hard orders are not." (Professional, Scientific & Technical Services)
"Business has come back solidly since mid-July, with a strong August and September. However, suppliers are plagued with lead-time challenges driven by (1) cautionary practices in terms of rebuilding capacity, (2) hiring difficulties for those trying to build capacity and (3) the impact of recent hurricanes in some regions." (Retail Trade)
"Very good sales trend in home-improvement product sales, but challenges on market conditions exist, like limited ocean capacity from Asia to US, delays in port and rail as a result of COVID-19 pandemic impact." (Wholesale Trade). 
We are seeing large moves on any decent economic report, which indicates that markets are not certain about a hard or a soft global recessio
2 months ago