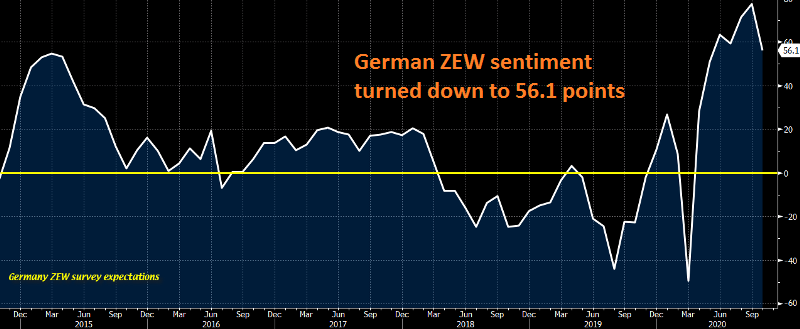 More Signs the Eurozone Economy Is Slowing Again
The Eurozone economy started to recover well in June, after the lockdown months. But, the recovery started to weaken in July, and it has slowed considerably now, as we have seen from the European data of the last two months. Today, the German and Eurozone ZEW indicator, which shows the economic sentiment in Europe, is weakening again. With the new coronavirus measures in Europe, the situation will only get worse, and this is going to catch up with the Euro later on if the situations deteriorates as it is doing now.
German and Eurozone ZEW Indicators – October 13, 2020
German October ZEW survey current situation -59.5 vs -60.0 expected
September ZEW survey current situation -66.2
German expectations 56.1 vs 72.0 expected
Prior expectations 77.4
Eurozone expectations 52.3 against 72.0 expected
Prior Eurozone expectations 73.9
The current situation reading shows some improvement, but it is still highly subdued for the most part, although the drop in the expectations component is more concerning. ZEW notes that the drop comes amid the recent sharp rise in numbers of coronavirus cases, leading to an increase in uncertainty about future economic developments.
Brexit concerns and uncertainty surrounding the US election are also part of what is weighing on optimism. It looks like the hopeful euphoria seen in August and September is beginning to fade, and that does not bode well for the economic outlook as we head towards the end of the year.