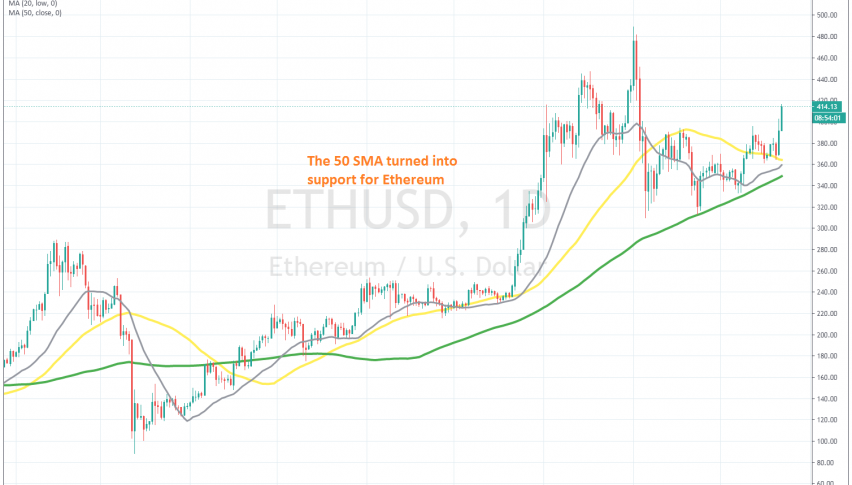 The Crypto Market Feeling Bullish, With Ethereum Climbing 15% Higher
ETHEREUM crashed lower in March, as most major cryptoocurrencies during the initial coronavirus panic, falling from $250 to $90. But, the decline ended and since the middle of that month, Ethereum has been quite bullish, gaining more than 4 times in value.
Until August, the 20 SMA (grey) and the 50 SMA (yellow) were providing support. That lasted until August when the price surged higher. Ethereum surged to $490 on September 1, but then retreated back down, as the USD started to gain some strength, after declining for months.
Although, the decline in ETH/USD stopped above $300, where it seems to have formed a base, after that area rejected the price for a second time in late September, helped by the 100 SMA (green) which provided support. The price broke above the 50 SMA (yellow) on the daily chart and this moving average which provided resistance in September, turned into support now.
In the last two days, the crypto market has moved higher again, as the USD turned bearish, and Ethereum bounced off the 50 SMA. Paypal aid to be adopting cryptocurrencies soon, which is another reason for the surge this week. So, the momentum is bullish for Ethereum and we will try to go long if we see the price retrace down to the 50 SMA and the 50 SMA holds. Until then, we will follow the price action.