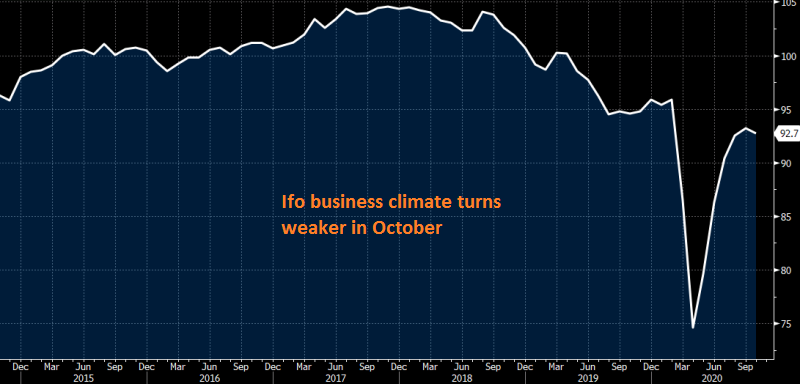 German Business Climate Weakens Again in October
The ifo business index in Germany turned really weak during the lockdown months, bottoming out at around 74 pips in April. From then though, the business climate began to improve, jumping to 93.4 points in September, which was revised lower to 93.2 today.
Today's report for this month was expected to weaken to 93.1 points, but it fell even further, to 92.7 points, as the coronavirus restrictions began to increase again. This is yet another sign that points at more weakness in the Eurozone economy in the coming months, after services fell into contraction again. But, the Euro is holding up well nonetheless, which is likely to continue until the US elections.
Germany's October ifo Business Climate Index –  October 26, 2020
October ifo business climate index 92.7 points vs 93.0 expected
September ifo business climate index was 93.4 points; revised to 93.2
Expectations in October at 95.0 points vs 96.5 expected
September expectations were 97.7 points
Current assessment 90.3 points vs 89.8 expected
Prior Current assessment 89.2 points
The headline marks the first drop in German business morale in six months, with the expectations component also falling, amid the resurgence in coronavirus cases, which is dampening economic prospects in the region. That's definitely not a good sign for how things are shaping up in Q4 and a 'double-dip' recession may very well be on the cards for the Eurozone.
Comments by ifo economist Klaus Wohlrabe
German economy growing more nervous, as coronavirus infections rise
Anticipates growth of 2.1% in Q4
Forecast provided there isn't a second lockdown
Closure of schools, day care centers, would have a massive impact on the economy
Export expectations have deteriorated, given the latest virus situation
Automobile sector is an exception to the gloom in the general economy
Germany is on the precipice of seeing its virus situation escalate in a similar manner to what we have seen in Spain and France recently, and such a turn of events would be a major blow for Europe's biggest economy. The number of active virus cases reported across the country has doubled from 50,000 to over 100,000 in just 10 days, with over 250 districts now deemed as 'high risk' areas.
As mentioned in the daily reports, if tighter restrictions are introduced, it will weigh more heavily on the economic prospects of the country and the region. In turn, that will present more of a headwind for risk assets and the euro as such.