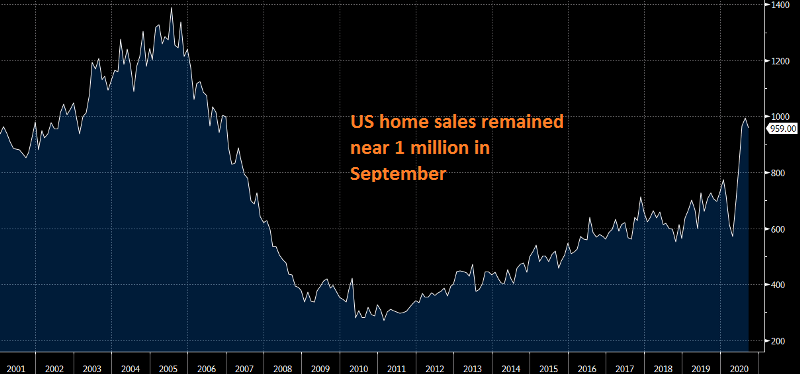 US Home Sales Keep the Bullish Trend, Despite the Small Setback
Home sales have been on a bullish trend in he US since 2011, after cooling off for several years back then. We saw another setback in home sales during March and April, with the country being in lockdown, but the bullish trend resumed again, and home sales increased to over 1 million in August, as US citizens began moving out of big cities and into the suburbs, due to the unrest.
Today's report showed a setback in September, but that is compared to August, because generally, sales remain really high and the bullish trend is bound to continue, as the unrest continues in the US, ahead of the elections.
US September new home sales data
September new home sales 959K vs 1,025K expected
Prior was 1,011K (revised to 994K)
Sales MoM -3.5%
Median sale price YoY $ 326.8K, up by 3.5%
Supply 3.6 months vs 3.4 prior
This is a small setback. There is a consensus belief that the US is in a secular bull market in housing, and I don't see today's report changing that.  However, we will see how the housing market progresses after the presidential elections.
The FED is preparing markets for further strong rate hikes, which has been helping the USD but today we are seeing a strong retrace low
6 months ago