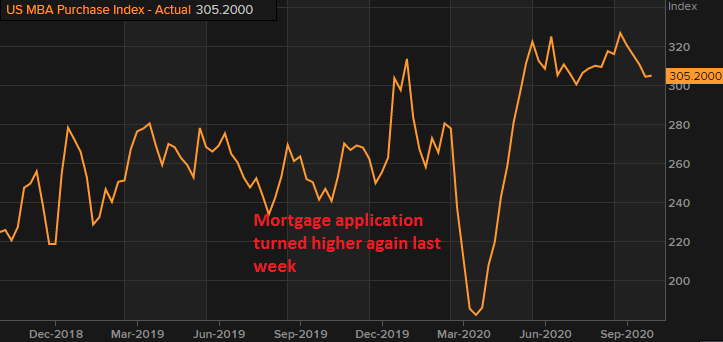 US Mortgage Applications Increase Again, Confirming the Great Shape of the Housing Market
The housing sector has been booming in the US since the end of lock-downs, with people moving from cities like New York, Los Angeles, San Francisco etc due to the unrest and the increasing number of homeless people, into the suburbs.
As a result, home sales have surged since then and so have the mortgages since April, as the chart above indicates. In September we saw a cool off in home financing, but it increased again last week, so this market is back on track, expanding further at a decent pace.
Mortgage Bankers Association for the week ending 23 October 2020
US MBA mortgage applications w.e. 23 October +1.7% vs -0.6% prior
Mortgage applications previous week -0.6%
Market index 807.8 vs 794.2 prior
Purchase index 305.2 vs 304.6 prior
Refinancing index 3,711.6 vs 3,620.5 prior
30-year mortgage rate 3.00% vs 3.02% prior
The rise last week largely stems from an increase in refinancing activity, although purchases were also seen higher as well. This reaffirms the narrative that the housing market still remains somewhat steady despite the latest coronavirus restrictions and the elections coming up next Wednesday.