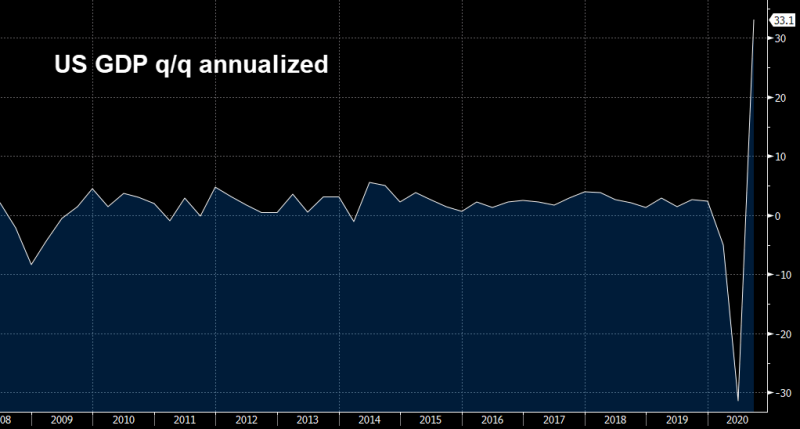 The Biggest Jump in US GDP Ever
The US economy posted the biggest contraction ever in Q2, with lock-downs delivering a bigger blow than the 2008-09 crisis. However, it was revised higher from around -32.9% to -31.4%. Q3 was expected to be really good, which it was, with the US GDP report posting a 33.1% expansion last quarter. So, the US economy is almost back on track, unlike the Eurozone, which is heading for another recession, as coronavirus measures increase. Below is the US GDP report:
US GDP Report Q3
US Q3 advance GDP +33.1% vs +32.0% expected
Best US quarter on record (following the worst quarter)
Q2 was revised higher again from -31.9% to -31.4%
GDP excluding motor vehicles +26.3% vs -29.0%
Personal consumption +40.7% vs +38.9% expected
GDP price index +3.6% vs +2.9% expected
Core PCE QoQ +3.5% vs +4.0% expected
Inventories added 6.62 pp to GDP
Business investment +20.3% vs -27.2% prior
Business investment in equipment +70.1% vs -35.9% prior
Exports +59.7% vs -64.4% prior
Imports +91.1% vs -54.1% prior
Inventories added 6.62 pp to GDP
Home investment +59.3% vs -35.6% prior
Business investment in structures -14.6% vs -33.6% prior
GDP YoY -2.9%
These are all breath-taking numbers, but they were largely expected. The consumption number stands out as a pleasant surprise, but the business investment number is marginally negative, especially since those high investments in equipment were partly due to one-off COVID-19 changes (like installing dividers).
For some perspective on where we stand; this rebound erases about two-thirds of the total decline, and it will probably take into 2022 to erase it all, especially since this quarter is looking increasingly dim. Four-quarter GDP is down by 2.9%, which is much better than we thought it would be five months ago, but on the other hand it is comparable to -3.9% at the depths of the great recession.
We have some important economic events this week, although crude Oil is under spotlight as China's economy should show a rebound
4 weeks ago