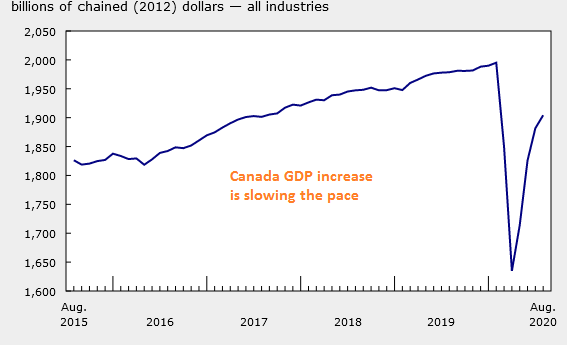 Canadian August GDP Reading Beats Expectations Once Again
The Canadian economy hasn't bounced back as strongly after the lockdowns as other economies, and it has certainly been lagging behind that of the US. The new restrictions that started in October should kill off this weak rebound, but we are still getting data from August, and today's GDP report for that month cooled off compared to July, but it beat expectations nonetheless.
Canada Monthly GDP for August 2020
August GDP MoM +1.2% vs +0.9% m/m expected
July GDP was +3.0%
GDP YoY -3.8% vs -4.2% expected
Prior YoY reading -5.0%
Preliminary September GDP estimate MoM +0.7%
Preliminary Q3 GDP estimate +10%
Activity about 5% below February peak
Details:
Goods producing businesses added +0.5% to the GDP
Services-producing businesses added +1.5%
Construction added +1.5%
Manufacturing added+1.2%
Wholesale and retail trade added +0.4%
Mining, quarrying and oil and gas extraction -1.7%
This is a good report, but there has been no reaction from the Canadian dollar, as the market looks forward and frets about the pandemic and the US election. So far, Canada has kept the virus at bay, but it will be increasingly difficult in the months ahead, as the weather turns and pandemic fatigue creeps in.