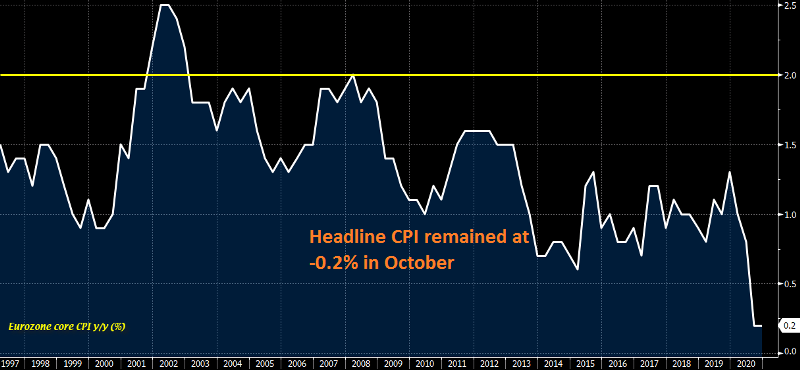 Inflation Remains Negative in Europe
The situation has been worsening in Europe already  so far in autumn and it is expected to get worse as lock-downs and covid restrictions are increasing. Services have fallen in contraction again, as the last two monthly reports have shown, while inflation turned negative in September, declining by 0.2% and remained there. Core CPI also remained unchanged at +0.2%.
October preliminary CPI YoY -0.3% vs -0.3% expected
September CPI YoY -0.3%
Core CPI YoY +0.2% vs +0.2% expected
September core CPI +0.2%
No change in euro area inflation data compared to September, but this just reaffirms the more subdued price pressures in the region towards the year-end. Core inflation is still seen holding at a record low and that won't please ECB policymakers surely. This is building up for the Euro to turn really bearish as soon as the US election hype is over, adding the increasing restrictions which will plunge the economy again.
The US consumer is softening as intertest rates go up, which is a factor for the USD retreat and for the FED to stop hikes
1 day ago