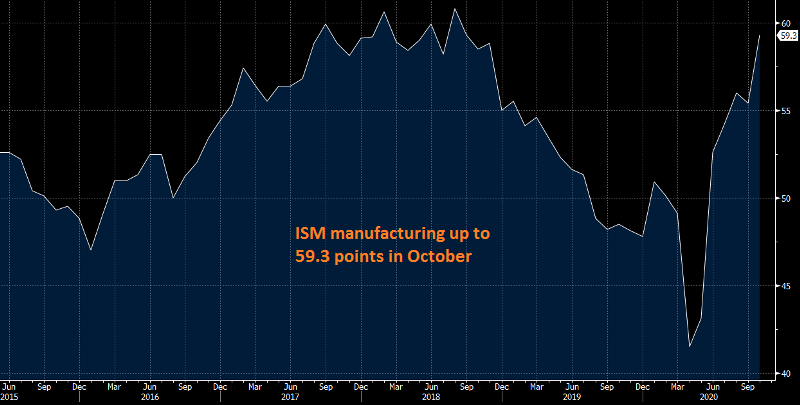 Manufacturing Is Surging in the US
Today's manufacturing reports from Europe for October showed that this sector is keeping the pace of the recovery, unlike other sectors like services, which have fallen in contraction. In the US, the economic situation is much better, with manufacturing activity surging. In September, the ISM manufacturing indicator manufacturing cooled off a bit, but last month it jumped higher. After the elections, the USD should resume the bullish trend of last week, if there are no major contests.
ISM Manufacturing Index October
ISM October manufacturing index 59.3 point vs 55.8 expected
Highest reading since Nov 2018
Prior was 55.4 points
New orders 67.9 points vs 60.2 prior
Prices paid 65.5 points vs 62.8 prior
Employment 53.2 points vs 49.6 prior
Inventory 51.9 points vs 47.1 prior
Production 63.0 points vs 61.0 prior
Backlog of orders 55.7 points vs 55.2 prior
Supplier deliveries 60.5 points vs 59.0 prior
Customer inventories 36.7 points vs 37.9 prior
New export orders 55.7 points vs 54.3 prior
Imports 58.1 points vs 54.0 prior
This is a fantastic reading and underscores just how strong the manufacturing sector has been coming out of the pandemic.
USD/JPY
has edged higher on the data. Obviously the market has much bigger things on its mind than this report but it shows that at least one part of the economy continues to accelerate.
Comments in the report:
"COVID-19 continues to have an effect on supplier support and operations, more from a decreased labor perspective rather than unavailable material." (Computer & Electronic Products)
"Business continues to be robust. Sales are greater than expectations, and cost pressures are modest. There is posturing by suppliers on market price increases for corrugated and polypropylene, yet no firm price increases at this time. We expect a strong finish to 2020 and a solid start in 2021." (Chemical Products)
"Sales continue to be strong – up 4 percent this September compared to September 2019. The year-to-date level is still 21 percent below last year due to the [COVID-19] shutdown, but sales are stronger than expected and forecast to stay strong through the first quarter of 2021." (Transportation Equipment)
"Increased production due to stores stocking up for the second wave of COVID-19." (Food, Beverage & Tobacco Products)
"Continue to see increases in customer demand. We still are not back to pre-COVID-19 levels but are continually improving." (Fabricated Metal Products)
"Construction materials have leveled off but continue to be at an all-time high. Mills for board sheet stock have pushed out lead times citing increasing backlogs related to the pandemic and increased supply in the housing market." (Furniture & Related Products)
"Business is almost back to normal levels; however, customers are still cautious with capital spending." (Machinery)
"Business levels have just about returned to pre-COVID-19 levels. Our company is remaining conservative with fixed-cost spending, knowing the uncertainties that lie ahead with COVID-19 and its potential impact globally." (Miscellaneous Manufacturing)
"October order books are the strongest we have seen in the past six months." (Paper Products)
"We continue to see stronger month-over-month orders in plastic injection molding." (Plastics & Rubber Products)