U.S. Stock Markets Rally On Election Eve
With the 3 November 2020 Election Day bearing down on us, the U.S. markets are showing signs of life. At the midway point of the Wall Street trading session, the DJIA DOW (+360), S&P 500 SPX (+31), and NASDAQ (+1) are all green. Given the current degree of political uncertainty, it is a surprise to see such robust participation in risk assets.
Right now, Election 2020 is the primary underpinning of U.S. commodities, stocks, and currency valuations. As of press time (12:45 PM EST), here's what we know:
Real Clear Politics (RCP)

has Joe Biden ahead of Trump by 6.5 points nationally.

RCP battleground polling data has tightened dramatically over the past week. However, except for a slight Trump advantage in North Carolina (+0.6), Biden leads in Florida (+1.0), Pennsylvania (+4.2), Michigan (+5.1), Wisconsin (+6.6), and Arizona (+1.0).

Offshore betting odds

have held relatively firm, with Biden (-200) a solid favorite over Trump (+175). The implied probability of winning sits at 65% for Biden and 35% for Trump.

92 million ballots have already been cast in early voting.
It's important to remember that in the 2016 election, RCP polling data and oddsmakers missed the boat badly. However, one pollster that called 2016 correctly was the Trafalgar Group. This year, Trafalgar has Trump ahead in most battleground states and nationally. If you look at today's early bullish action on Wall Street, traders agree that four more years of Trump is likely.
DJIA Spikes Ahead Of Election Day
The bidding toward U.S. stocks has been hot this morning. Accordingly, December DOW futures are off session highs, having tested topside daily Fibonacci resistance (26,885).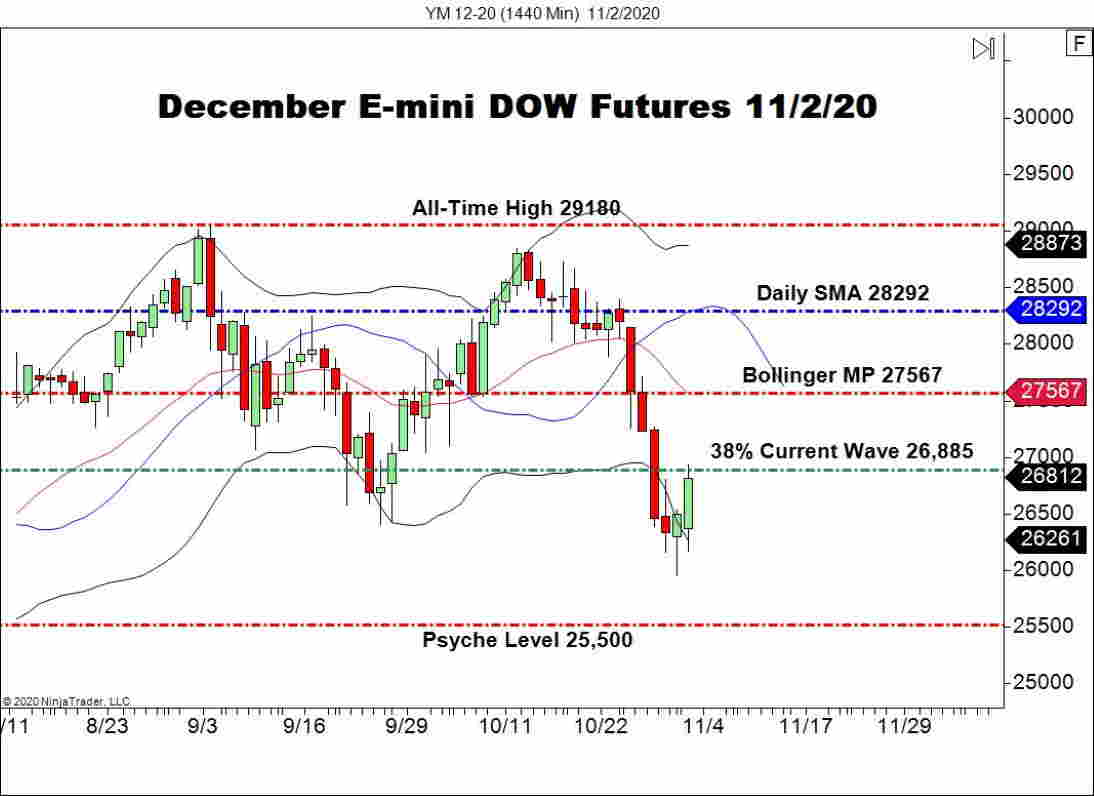 Overview: If you're going to be active over the next 48 hours, it will pay to be wary of enhanced volatility. Late polls, exit polls, and blockbuster news items can all sway the markets instantly. In fact, anything that foreshadows the election's outcome can bring immediate and serious volatility to asset pricing. For anyone preparing to trade the days surrounding the U.S. election, be sure to have your stop losses down and leverage in check!