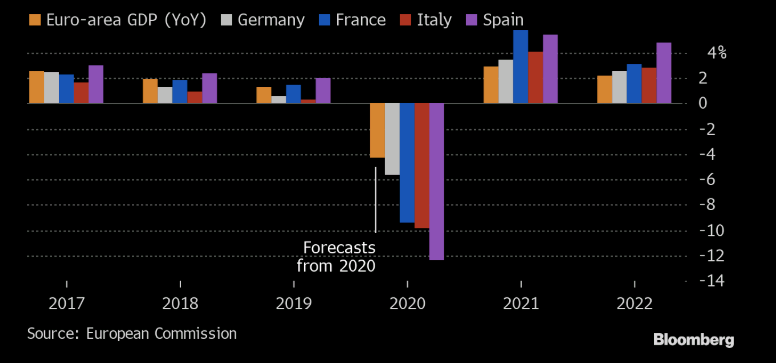 The Eurozone Economy Is Slowing Again
The rebound in the Eurozone economy after the lockdown was decent, but not as strong as in the US. However, it didn't last long, and now the Eurozone economy has slowed again, and it will probably head into another recession as the economy gets shut down again this winter. Retail sales already turned negative in September. Below are the forecasts from the ECB and the retail sales report.
The European Commission Forecasts – November 5, 2020
Eurozone 2020 GDP forecast -7.8% (previously -8.7%)
Eurozone 2021 GDP forecast +4.2% (previously +6.1%)
Eurozone 2022 GDP forecast +3.0
Expects Eurozone economy to contract by 0.1% q/q in Q4
Eurozone inflation 0.3% in 2020
Eurozone inflation 1.1% in 2021
Eurozone inflation 1.3% in 2022
The commission adds that the technical assumption for the forecasts is that there will be no trade deal between the EU and the UK once the Brexit transition period ends on 31 December. They add that the forecasts are surrounded by 'exceptional uncertainty'.
Considering the recent COVID-19 developments, the changes to the projections are very much expected but they are still relatively optimistic in my view. I expect far worse projections, given the tighter virus restrictions, so the forecasts above may well be outdated. Anyway, this serves as an indication that if the virus situation doesn't get any better in the coming year, this downgrade update is going to keep rolling back every quarter.
September Eurozone Retail Sales Report from Eurostat – November 5, 2020
September retail sales -2.0% vs -1.5% m/m expected
Prior +4.4%; revised to +4.2%
Retail sales +2.2% vs +2.8% y/y expected
Prior +3.7%; revised to +4.4%
Euro area retail sales activity slumped towards the end of Q3, as purchases in all categories fell after a sharp surge in online clothing sales in August. The decline in September pretty much reversed the August trend, with online clothing sales leading the drop.