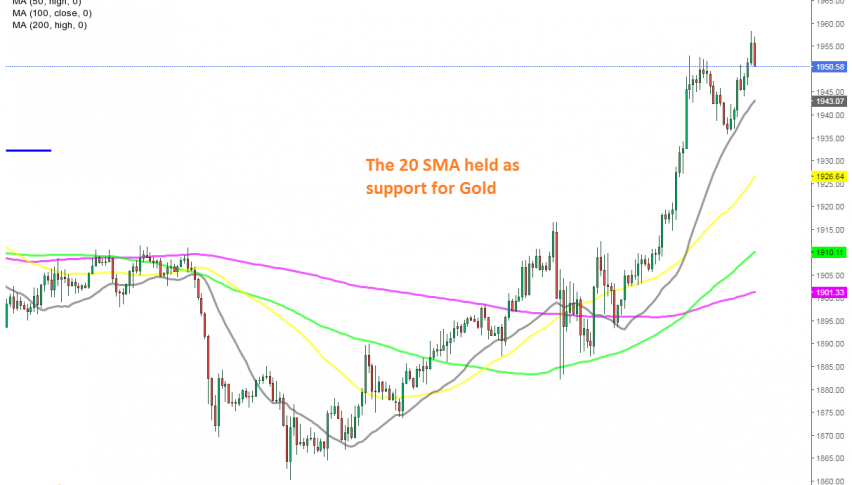 Gold Bounces Another 200 Pips Today, as the USD Remains Bearish
Gold has been extremely bullish since the beginning of this year. The geopolitical tensions between the US and Iran gave it a push in January, followed by a series of factors, including the coronavirus outbreak in China, followed by its outbreak in Europe, the associated lockdowns, the economic meltdown, the unrest in the US during summer and now the presidential elections.
Gold has made record highs this year, but the trend started to change after the quick reversal in the first week of August. Gold then retreated  until the end of October, but reversed higher again as the US elections drew near and traders turned to the ultimate safe haven, gold.
In the first hours of Wednesday morning, we saw a 330 pip decline, as polls were coming out in favour of Trump. But, the situation reversed again as the ballots flipped and the risk sentiment turned negative again. Now gold has climbed more than 600 cents since its lowest point last week.
Yesterday we saw a pullback during the evening/night, after the 500 pip surge during the day. But, the downward retrace ended at the 20 SMA (gray) on the daily chart. The pullback ended when it approached the 20 SMA, and gold has climbed around 200 pips since then. We lost that opportunity, since the pullback took place during the night, but we are seeing the beginning of the reversal now, and if it continues further down, we might go long on gold at the 20 SMA, if it holds as support again.
Safe havens such as Gold and the JPY have been taking advantage of the financial troubles with the ban king system and lower FED rate odds
1 day ago