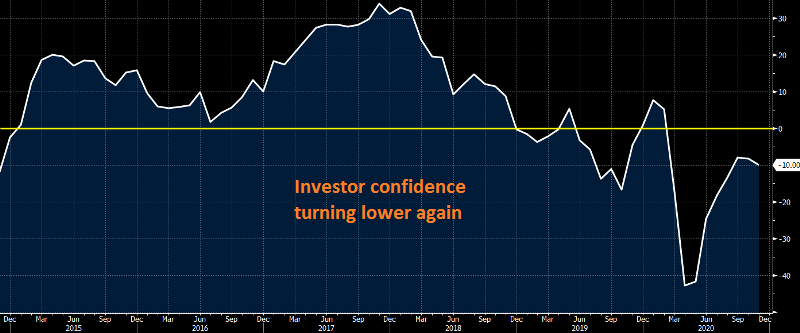 Investor Confidence Deteriorating Again in Europe
The consumer and investor confidence dived to previously unseen levels in Europe and everywhere else. But, the sentiment was bouncing back during summer after the reopening. In the US the sentiment turned positive, while in Europe the investor confidence remained negative, although improving. But in the last couple of months we have seen a deterioration, which is expected to get worse with the second round of lock-downs.
Eurozone November Sentix investor confidence
November Sentix investor confidence -10.0 points vs -15.0 expected
October Sentix investor confidence -8 points
Investor morale may not have declined as sharply as estimated but the pullback since September continues to hint at waning optimism over the euro area economy. With tighter restrictions being introduced, that will weigh on Q4 prospects and that is reflected by the reading above. The fear now is that such measures may be prolonged into next year to keep the health crisis in-check, in turn weighing on the economy for longer.