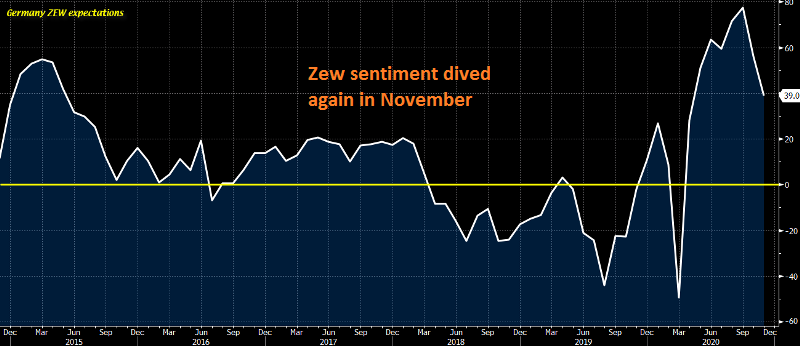 Eurozone Economy Starts to Head Down Again After New Restrictions
The rebound of the Eurozone economy was short-lived. After the biggest recession during the lock-down months in March and April, the economy started to rebound nicely, but there were already signs of weakness in summer, as the service sector fell into contraction again in August. But, the worst is yet to come, as the ZEW economic sentiment showed earlier today, with the continent going into another lock-down, which will kill the economy during winter.
Latest data released by the ZEW – November 10, 2020
November ZEW survey current situation -64.3 vs -63.5 expected
October ZEW survey current situation -59.5
Expectations 39.0 vs 44.3 expected
Prior expectations 56.1
Eurozone ZEW Survey
Eurozone expectations 32.8
Prior Eurozone expectations 52.3
The drop across all sectors reflects waning optimism and sentiment in the German and Eurozone economies, as tighter restrictions have been put in place over the past few weeks. The ZEW says that "financial experts are concerned about the economic impact of the second COVID-19 wave and what this will entail", adding that it indicates a slowdown of the economic recovery in Germany, with a risk of slipping back into a recession.