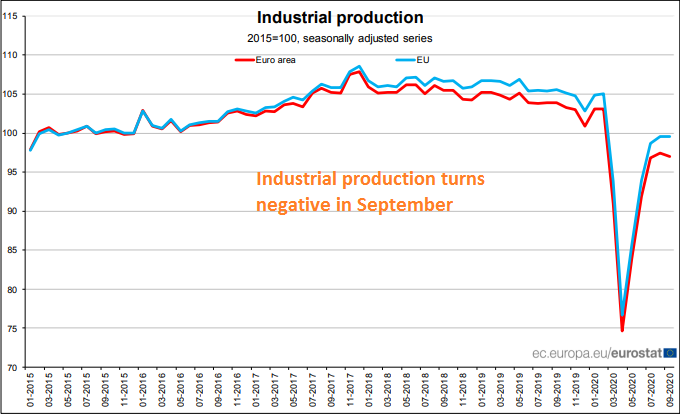 ECB Getting Increasingly Dovish, as Industrial Production Turns Negative
The European Central Bank (ECB) started to sound sort of optimistic during late spring/early summer, as the Eurozone economy rebounded after the first lock-downs. But, now the Eurozone economy is heading towards another recession. Services are already in contraction, and in September, industrial production turned negative again.
This data still shows the economy before the second round of lockdowns, so things will get much worse in Q4. The ECB's Lagarde was trying to talk the Euro down yesterday, while de Guindos is hinting at more support for the economy, so they are shifting towards becoming even more bearish now.
Eurozone September Industrial Production Report
September industrial production MoM -0.4% vs +0.6% expected
August industrial production was +0.7%; revised to +0.6%
Industrial production WDA YoY -6.8% vs -5.8% expected
August industrial production WDA YoY-7.2%; revised to -6.7%
Factory output missed on estimates towards the end of Q3, and that isn't a convincing signal on how the rest of the region is progressing, if you strip out Germany. As such, the Q4 outlook may look even more dire, all things, considered but at least for today, the market will still view this as a relatively minor data point.
ECB's de Guindos
It is important that fiscal support is maintained in the coming months
Fiscal support should even be scaled up in some areas