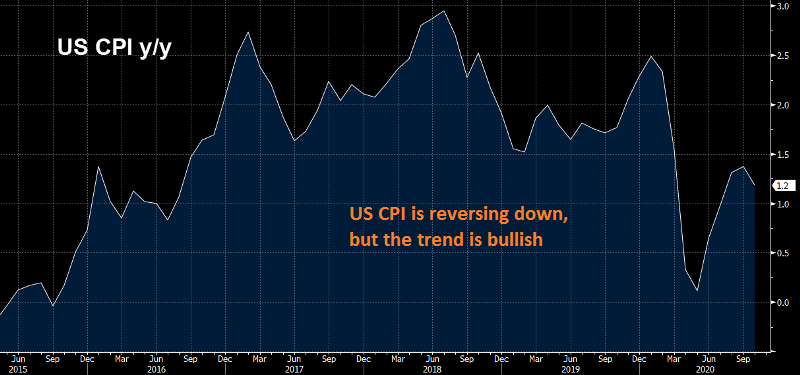 US Inflation Falls Flat in October
Inflation turned negative in most places from March until May, as Oil prices were declining and the western world was on lock-down. But CPI (consumer price index) jumped during summer, as the global economy rebounded and US inflation grew by 0.6% on average. Although, it is cooling of again, falling negative in Europe since September. In the US, CPI cooled off and both headline and core CPI fell flat last month, while YoY CPI slowed to 1.2%.
US October CPI Report
October CPI YoY +1.2% vs +1.3% expected
September CPI YoY was +1.4%
Core CPI YoY excluding food and energy +1.6% vs +1.7% expected
Prior core CPI excluding food and energy +1.7%
CPI MoM 0.0% vs +0.1% exp
CPI MoM excluding food and energy 0.0% vs +0.2% expected
Average weekly earnings +4.4% vs +4.4% prior
Average hourly earnings +3.2% +3.2% prior
This is a miss but it's not going to suddenly spur the Fed into action. Powell is watching the development in covid cases and restrictions. That's going to be dominant in the next few months. Once we exit the pandemic then inflation is going to be top-tier news.