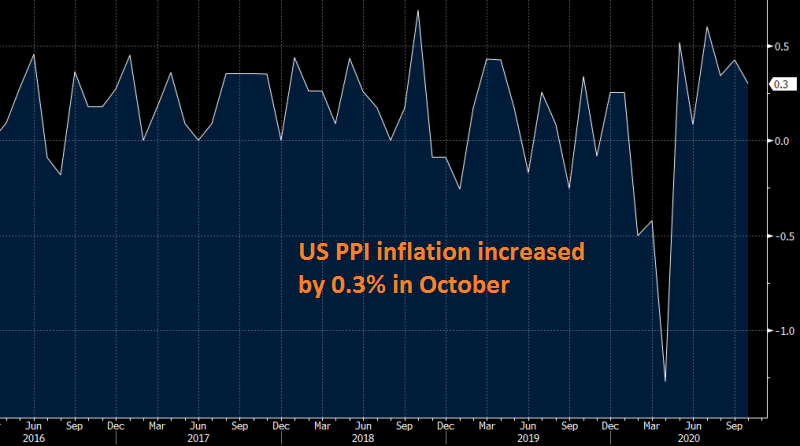 US Producer Inflation PPI Keeps the Pace, Despite the Growing Global Economic Weakness
Inflation took a big hit in spring, as crude oil prices tumbled lower. The decline in oil prices translated into lower PPI (producer price index) inflation, which spilled over onto the CPI (consumer price index). But, inflation bounced higher during summer, after the reopening of the global economy.
However, the global economy is heading back into recession with the new lockdowns, which has turned inflation negative in some places, particularly in the Eurozone. In the US, CPI inflation is holding up a bit better, and the PPI report today actually showed a pickup for October.
US  PPI Inflation Report for October
October PPI +0.3% m/m vs +0.2% expected
September PPI was +0.4%
Ex food and energy +0.1% vs +0.2% exp
Prior ex food and energy +0.4%
Ex food, energy and trade +0.2% vs +0.2% exp
Final demand y/y +0.5% vs +0.4% exp
Prior final demand +0.4%
Ex food and energy y/y +1.1% vs +1.2% exp
Ex food, energy and trade +0.8% y/y vs +0.9% exp
Producer price inflation is not a big factor at the moment, but given the drop in oil prices and the fact that we're in the midst of a raging global pandemic, it could certainly be worse.