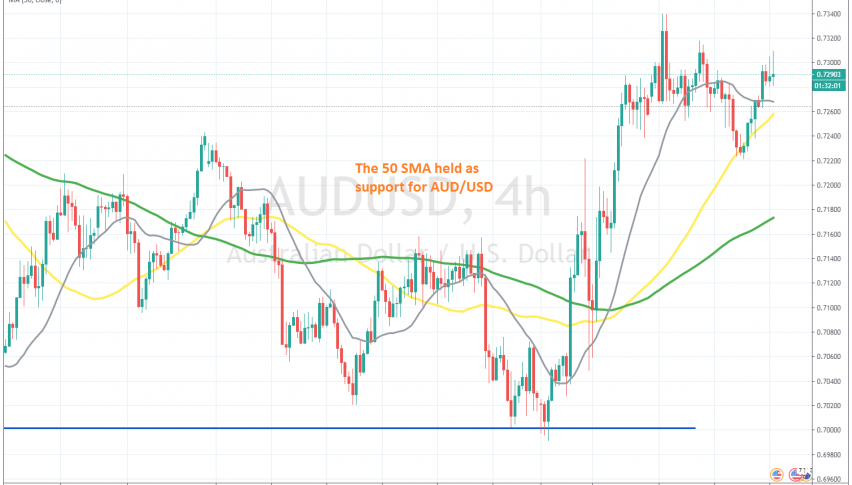 AUD/USD Remains Bullish After Bouncing off the 50 SMA
The USD started making some decent gains in October, but it turned bearish again during the election week. The AUD/USD took advantage of this, surging 350 pips higher that week, although last week we saw a pullback down to the 50 SMA (yellow) on the H4 chart.
The 50 SMA held as support, and the AUD/USD bounced off that moving average. Today, RBA's Lowe mentioned negative interest rates, but he hinted that the odds of them going in that direction are quite slim. The AUD/USD remains bullish, and we might go long if the price retreats to the 50 SMA again.
RBA governor, Philip Lowe in the Q&A Session After the Speech
Would rethink negative rates if global peers went negative
The costs still outweigh the benefits of negative rates for now
Negative rates still extraordinarily unlikely
Would consider negative rates if all the world's major banks had negative rates
This is a similar kind of rhetoric to his remarks last week. Nothing has changed yet, but as important as it is to follow what the Fed is doing, Lowe's stance is a rather weak one when it comes to having to put his foot down on the issue. For now, the RBA is pretty much in a similar spot as the BOE, in the sense that negative rates may very well be inevitable, but for now, they are adopting a wait-and-see approach.