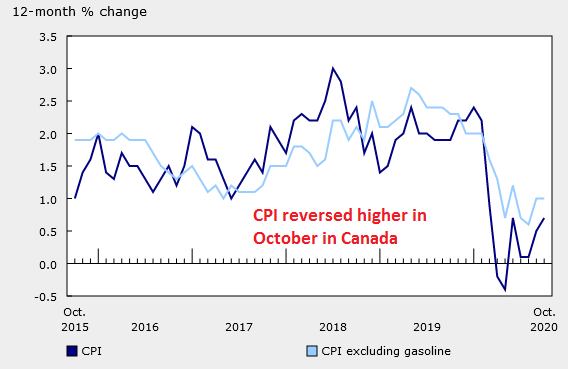 Inflation Turns Positive Again in Canada, for October
Posted Wednesday, November 18, 2020 by
Skerdian Meta
• 1 min read
The Canadian economy started to weaken again in August and September, after the rebound following the recession during the lockdown months. The CPI (consumer price index) inflation fell flat in July, while in August and September it turned negative, declining by 0.1% each month.
However, today's report showed a reversal and an increase of 0.4% during October, so are we getting back to normal? I don't think so, especially with the new lockdowns, which will send the economy diving once again this winter.
Canadian Inflation Data – October
October CPI +0.7% y/y vs +0.4% expected
Prior was +0.5
CPI +0.4% m/m vs +0.2% expected
Prior month -0.1% m/m
CPI ex-gasoline +1.0% y/y
Core measures:
Median 1.9% vs 1.9% exp (prior 1.9%)
Common 1.6% vs 1.5% exp (prior 1.5%)
Trim 1.8% vs 1.8% exp (prior 1.8%)
Food prices were a driver for the gain in vegetable prices +9.5% y/y. One drag is the mortgage interest costs, which fell by 0.7% m/m on lower rates. Meanwhile the homeowners' replacement cost index, which is derived from the price of new homes, rose by 1.4% month over month, which was the largest monthly increase since June 1991.