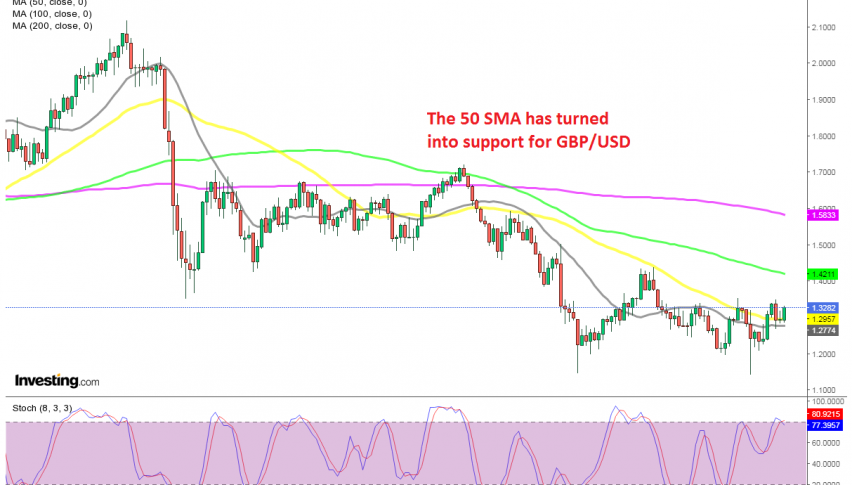 The 50 Monthly SMA Turns Into Support for GBP/USD, As the Brexit Deal Seems Imminent
Brexit has been a great trading event for traders who like volatility, since it has forced the GBP to go through some major moves during the last four years. But, it has also been a headache, since it has made the GBP change course many times, from all the comments that have been coming from UK and EU officials. GBP/USD was on a bearish trend already when the Brxit vote took place in 2016, but it sent it even lower to 1.1450s by October that year. The zone around that level seems to have turned into the ultimate support for GBP/USD , after holding this pair during the coronavirus crash in February/March this year.
The idea of UK ending up without a Brexit deal has been weighing on the GBP since 2016 and we have had quite a few winning forex signals selling this pair during that period, although Boris Johnson struck a Brexit deal last year, which looked positive at first, but it wouldn't mean anything without a trade deal between EU and the UK. There were many meetings during this period to get to a deal, but issues like the Irish border, the common market, fisheries etc have been holding a trade deal back.
But, the recent comment shave pointing to a trade deal soon, probably right before the transition period ends at the end of 2020. After all, with everything that has been going on this year and the big changes that are occurring and will progress further for global politics and economics, the EU-UK skirmishes about the trade deal seems very minor now, so both sides are leaving behind some of these issues and are moving forward. We heard rumours about this yesterday, so everything is telling us that the deal will come soon.
UK Times citing one unnamed 'Whitehall source'
"There's increasing expectation of a deal"
"We need to be ready to get it through parliament"
Times says legislation is being prepared for a Brexit trade deal. It'll need to pass through both houses of parliament at "breakneck pace". The GBP has been bearish for a long time as a result of Brexit. GBP/USD was on a bearish trend until earlier this year, with the 50 SMA (yellow) providing resistance during retraces higher and pushing the price lower on the monthly chart. But, as we approach the trade deal, the GBP has turned bullish and this moving average has turned into support for GBP/USD.
In summer, GBP/USD broke above this moving average, while in September it held as support after the price returned back down. This month, GBP/USD has bounced off of it, after forming a doji candlestick in October, which is a bullish reversing signal. If the bullish momentum will continue it remains to be see, because the USD is in the middle of a crossroad right now and the coronavirus restrictions are messing up with the global economy again, but one of the major bearish factors for the GBP will be removed with the trade deal.