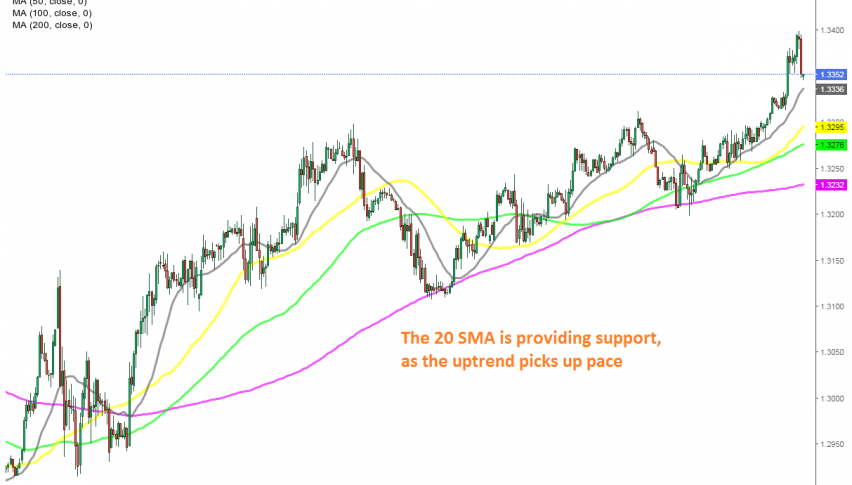 GBP/USD Remains the Most Bullish Pair, as the Brexit Deal Inches Closer
The GBP/USD dived pretty hard during the coronavirus crash in February/March this year. It reversed higher from March, as Brexit fell into the shadows during spring and summer, but the issue came back into the spotlight in September, sending the GBP down once again. However, the rumours since early October have been positive, and this has been supporting the GBP.
The USD has also turned bearish, and this has fueled the bullish trend in this pair, which is picking up momentum as the optimistic comments keep coming. The GBP/USD increased to 1.34 earlier today, but the great manufacturing and services report from the US, showing a jump in activity, has pushed the USD higher and the GBP/USD lower. We will try to buy this pair, probably at the 20 SMA (gray).  
Comments by Irish prime minister, Micheál Martin
Hopeful that we could see outlines of a Brexit deal at the end of this week
A deal is necessary and in the best interests of everyone
Tweet by Dave Keating, Brussels correspondent for France 24
I'm hearing rumours we may see an emergency "temporary #Brexit deal" agreed this week to avoid #NoDeal happening in midst of #COVID19.

If this is true, it's important to point out that this will *not* be a "deal".
It's essentially an extension. The problem doesn't go away.
Just something to take note of. This could be what all the murmurs and whispers have been referring to since the weekend. It seems like this may allude to an agreement on the supposed 95% of the deal, with any agreement on the remaining 5% i.e. fisheries, governance, level playing field etc., is likely to be postponed/extended pending further negotiations.