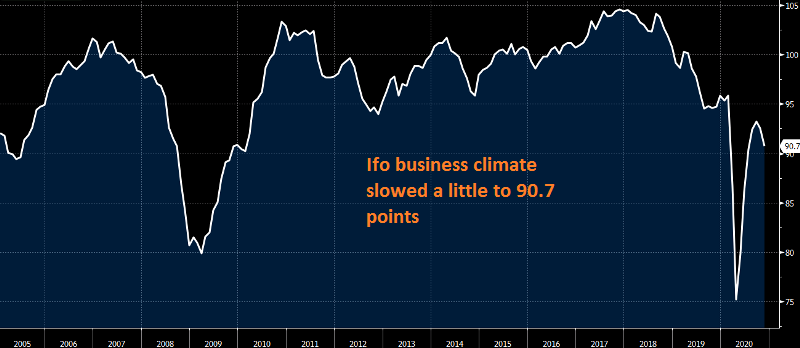 German ifo Business Climate Holds Well, Despite New Lockdowns
The first lockdowns in spring sent the European economy into a deep recession, with all sectors falling into the abyss. During summer, the situation improved as the continent reopened, and the economy rebounded. But new restrictions have increased, and Europe has gone into another lockdown, which has sent the service sector into recession once again.
However, the manufacturing sector is holding up, despite the new measures coupled with the business sentiment. This is a positive thing, because everyone was execting another deep recession this winter.
German ifo Business Climate Index for November,
 

 90.7 vs 90.2 Expected
November ifo business climate index 90.7  points vs 90.2 expected
October ifo business climate was 92.7 points; revised to 92.5
Expectations 91.5 points vs 93.5 expected
Prior expectations were 95.0 points; revised to 94.7
Current assessment 90.0 points vs 87.5 expected
Prior current assessment 90.3 points ; revised to 90.4
A slight delay in the release by the source. The headline may be slightly better than estimates, but business morale still reflects a drop, with the expectations component also highlighting a more pessimistic outlook towards the economy, as we head towards year-end.
This just about sums up economic sentiment in the Euro area at the moment, though Germany is still arguably faring better than others, considering that its manufacturing sector is seen to be holding up, despite tighter restrictions being introduced.
Comments by ifo economist Klaus Wohlrabe
German industry activity not so affected by lockdown measures
Industry has resisted the downtrend in the economy
Export expectations have been dampened, are slightly negative again
Q4 GDP to be slightly negative
That is pretty much similar to what we saw from the PMI readings here yesterday. So, it doesn't look like there is much else to build on, with business morale taking a slight hit amid the heavier decline in the services sector. However, just be wary of the decline in export expectations, as that may eventually weigh on factory activity if tighter restrictions are prolonged in the coming weeks/months.