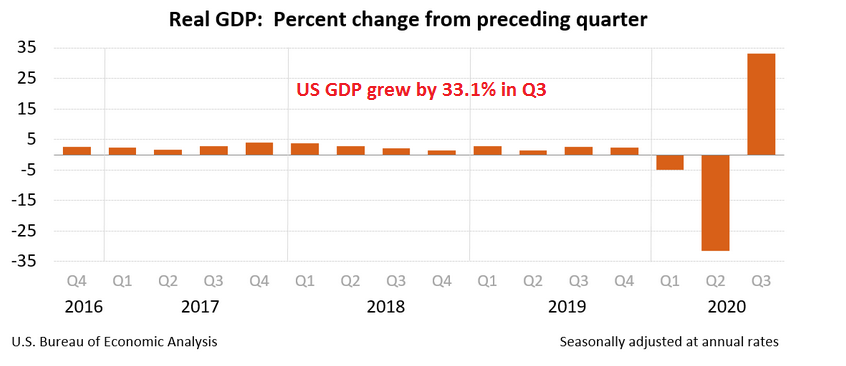 Record Growth for the US GDP in Q3
Posted Wednesday, November 25, 2020 by
Skerdian Meta
• 1 min read
In Q2 we saw a major decline in the US economy, with the GDP contracting by 31.4%. Although, the situation was the same all over the West, as lock-downs delivered a blow to economic predictions. But, in Q3 the economy rebounded well, expanding by 33.1%. Unlike Europe, the US is keeping the pace of the recovery, despite new restrictions in certain states. Below is the GDP report for Q3:
US third quarter gross domestic product, second estimate:
US Q3 GDP (second look) +33.1% vs +33.1% expected
Prelim reading was +33.1%
Final Q2 reading was -31.4%
With the second estimate, upward revisions to nonresidential fixed investment, residential investment, and exports were offset by downward revisions to state and local government spending, private inventory investment, and personal consumption expenditures. Imports, which are a subtraction in the calculation of GDP, were revised up.
Details:
Ex motor vehicles +26.4% vs +26.3% prelim
Personal consumption +40.7% vs +40.9% expected (prelim +40.7%)
Corporate profits after tax +27.5%
GDP price index 3.6% vs +3.6% expected
Core PCE q/q 3.5% vs +3.5% expected
Inventories added 6.55 pp to GDP vs 6.62 pp in prelim report (subtracted 3.5 pp in Q2)
Business investment +21.8% vs +20.3% prelim
Business investment in equipment +66.6% vs +70.1% prelim
Exports +60.5% vs +59.7%  prelim
Imports +93.1% vs +91.1% prelim
Net exports subtracted 3.18 pp from GDP
Full report
This is very close to expectations and doesn't tell us much new about what might be coming in Q4 or beyond.