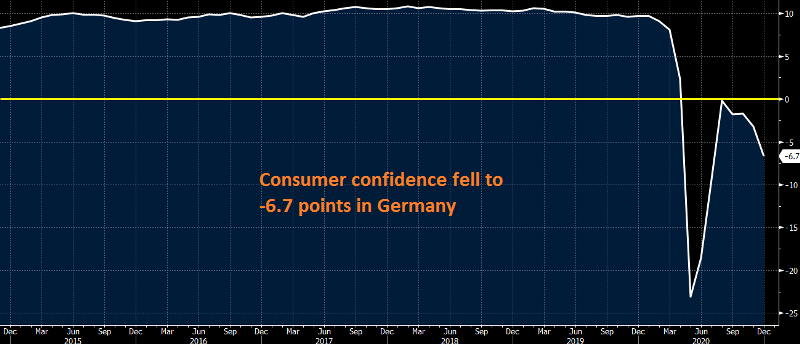 Consumer Confidence Declines Further in Germany, as Restrictions Increase
Both business confidence and consumer confidence in Europe dived deep into negative territory during March and April. The confidence started to reverse during summer, as the optimism increased after the reopening of the continent.
But shortly before it could turn positive in August, it reversed back down and has been declining again since then. Now, because the lockdowns are back, the situation is getting worse again, as the German GfK consumer confidence report showed this morning, so we can expect things to get worse in the coming months.
Latest data released by GfK – November 26, 2020
December GfK consumer confidence -6.7 points vs -4.9 expected
October GfK consumer confidence was -3.1 points
The tighter restrictions in Germany continue to weigh on consumer morale, with the headline readings dropping a little more than the estimates.
GfK notes that while retail shops have been kept open so far, the closure of restaurants, bars and hotels clouded the consumers' mood. They added that:
"The hopes for a rapid recovery that arose in early summer have definitely been dashed. Only a noticeable decrease in infections and a relaxation of restrictions will bring more optimism again."
Angela Merkel Extending Lockdowns
Partial lockdowns extended to Dec 20
We need another act of resolve
Exponential increase in cases has been stopped
There will be tougher restrictions for hotspots
This is another example of how the market has moved on since the virus. The EUR/USD was near the highs of the day at 1.1940s, but it has reversed down, having lost 50 pips now, although that seems to be more of a USD move, since the Buck is gaining against all currencies.