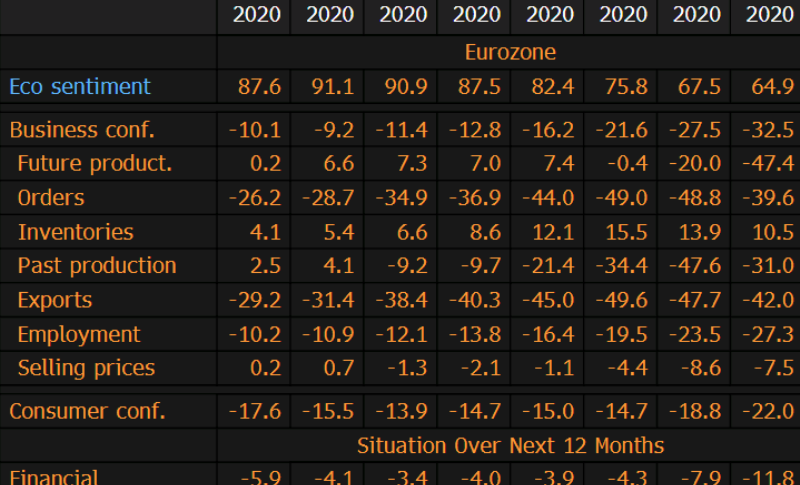 Consumer Confidence Deteriorating Further in Europe
The economy of the Eurozone went through one of the biggest recession during March-April, when the continent was closed off to anything, apart from necessary businesses. The consumer confidence dived pretty hard, as the income slowed, but it improved somewhat during summer, as the continent reopened. But, with the new restrictions and lock-downs, the situation is deteriorating again and it is expected to get worse:
Eurozone November Consumer Confuidence
November final consumer confidence -17.6 points vs -17.6 prelim
Economic confidence 87.6 points vs 86.0 expected
Prior economic confidence 90.9 points; revised to 91.1
Industrial confidence -10.1 points vs -10.9 expected
Prior industrial confidence -9.6 points; revised to -9.2
Services confidence -17.3 pointsvs -16.3 expected
Prior -11.8 points; revised to -12.1
Euro area economic confidence slumped on the month amid tighter restrictions across the region and that highlights the struggle with the recovery towards the year-end. As the restrictions look set to continue until the closing stages of the year, it makes for a very uncertain outlook going into Q1 2021 if the virus situation isn't contained.