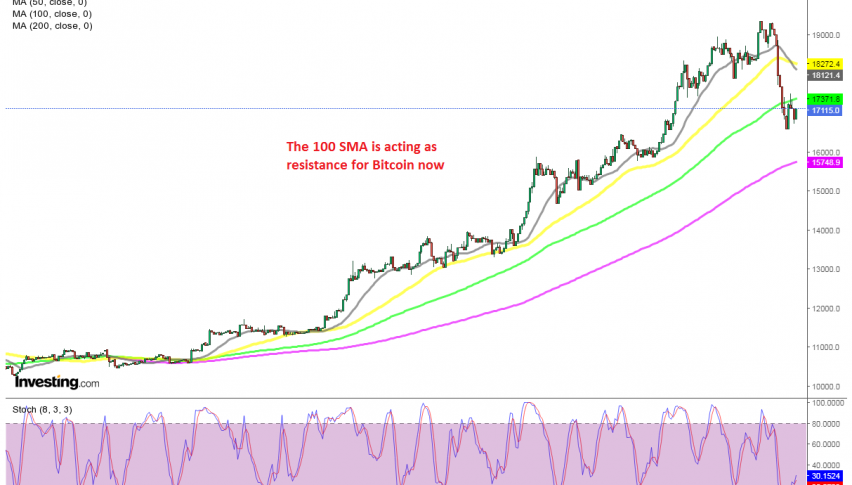 Has the Trend Changed for Cryptocurrencies, As the 100 SMA Turns into Resistance in Bitcoin?
We have witnessed quite a surge in cryptocurrencies during this month, which picked up pace in recent weeks. The trend turned bullish in cryptos since after the crash in March, as they turned into the ultimate safe haven during these times of trouble, but this month they have been absolutely surging.
BITCOIN nearly doubled in value, increasing from around $ 13,000 to $ 19,300s. All other altcoins surged higher too, with ETHEREUM increasing from $ 380 to $ 620, LITECOIN climbing from $ 50 to $ 93 and RIPPLE from below $ 0.30 to above $ 0.77, which means a 250% increase almost.
But buyers were finding it difficult to make new highs as the price approaches closer to $ 20,000. On Wednesday we saw a reversal down, which continued yesterday. The price broke below moving averages, which were acting as support on the H4 chart. That's a sign that buyers might not be in control anymore.
The 100 SMA (green) turned into resistance, rejecting the price, which is another bearish signal. Although, the price is not falling anymore now. So, there's some uncertainty in cryptos now, after the pullback lower all across the board during the last few days. This might as well be a good opportunity to buy them, but the we will see how they will react in the next few sessions. If Bitcoin climbs above the 100 SMA and stays there, then that would be a bullish sign. So, let's observe the price action until then.