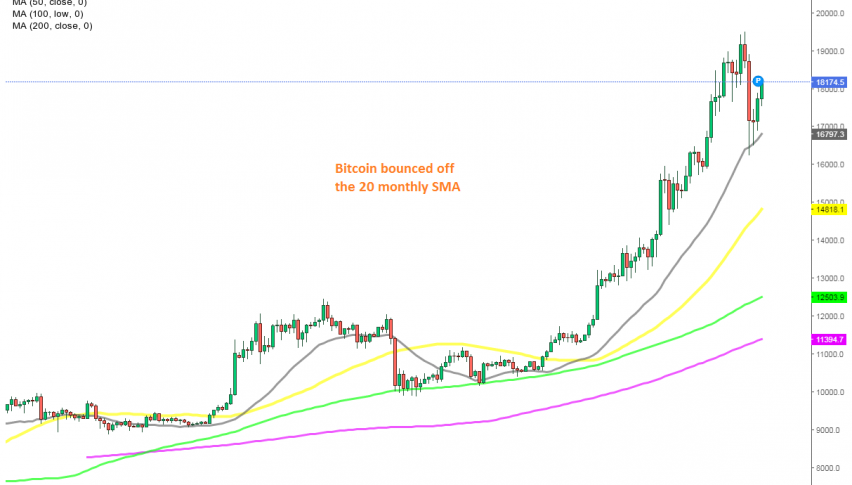 The Bullish Momentum in Crytpocurrencies Is Not Over Yet
Cryptocurrencies have changed their status this year, from risk assets into safe havens, after the turmoil we have seen this year. With the global economy is a very difficult place, everything has become too risky to buy nowadays. Even traditional safe havens have like GOLD and SILVER have been declining since the first week of August. As the risk of buying traditional financial assets has increased, the situation has changed and traders are finding comfort on cryptocurrencies now. After all, if the world as we know ends at some point, cryptos will probably be the only thing to survive.
As a result, the demand for digital currencies has increased, particularly in November after the US elections. Altcoins were surging this month, which shows that more difficult times might come in the following months. BITCOIN shoot from around $ 13,000 at the beginning of November, to $ 19,500 by Wednesday.
But, the big round level at $ 20,000 which was the high back at the end of 2017, during that Gold rush for cryptos scared buyers away once again. Although, after such a surge it was time for a decent pullback, which took place from Wednesday until Friday. All cryptocurrencies retreated lower this week and Bitcoin lost more than $3, 000, falling from $ 19,500 to $ 16,200s.
Thursday's candlestick in particular looked really bearish, engulfing all previous bullish candlesticks. That raised some eyebrows, whether this pullback could turn into a bearish trend. After all, the target area around $ 20,000 was reached. The other cryptocurrencies were also retreating lower pretty fast.
But, the 20 SMA (grey) on the monthly chart was waiting to provide support. The price pierced that moving average briefly on Wednesday, but the price pulled back up and after a second test on Thursday, sellers gave up and Thursday's candlestick closed as a doji, which is a bullish reversing signal after the retrace lower.
During the weekend, the bullish reversal came and the price has climbed nearly $ 2,000 pips since the bottom. This puts the bullish trend back on. Bitcoin has to break the $ 20,000 level at some point, in order for the bullish trend to continue higher. The other major cryptocurrencies are lagging this weekend, but usually Bitcoin leads the way, so if Bitcoin keep the bullish momentum going, the other ones will join at some point.
Cryptocurrencies were showing strong bullish pressure in the first two months of 2023, but the bullish momentum has faded
3 weeks ago