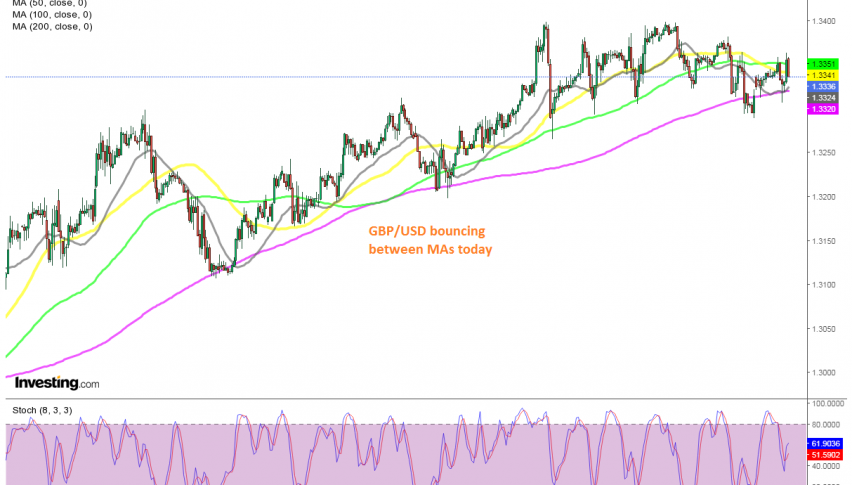 Brexit Deal-No-Deal Comments Keep the GBP/USD Volatile
Like all other risk currencies, which have been quite bullish in November, the GBP/USD has also been bullish during this month, but the uptrend hasn't been too straightforward. We have seen some see-saw price action during this time. We saw a decline earlier today and a reversal back up, while now the price is falling again, as Irish officials have made contradicting comments on the Brexit deal.
Comments by Irish foreign minister, Simon Coveney
A Brexit deal can be finalized this week
There needs to be give and take on both sides
This is the key week, we are running out of time
Has faith that Barnier can negotiate a balanced deal
The narrative at the end of last week was that getting to a deal is "tough" and that there are still "significant gaps" on the three key outstanding issues. But so far, both sides are now communicating better odds of achieving something.
I could be reading too much into the political theatre/play-acting, but just be mindful of earlier reports from last week suggesting that they could work out some technicality to get something across the finish line – for now at least.
Further comments by Coveney
If there is no agreement on fisheries, the whole thing could fall into the water
Fisheries is a more difficult issue than the level playing field
UK attempting to separate fisheries from other issues
We are not going to play that game
Nothing new really from Coveney, but the pound has seen a slight decline over the last 15-20 minutes, as cable pares its gains for the day upon testing its 100-hour moving average just above 1.3350 earlier. The price is now slipping just under the 200-hour moving average of 1.3320, but we still see some added support closer to 1.3290-00 next.