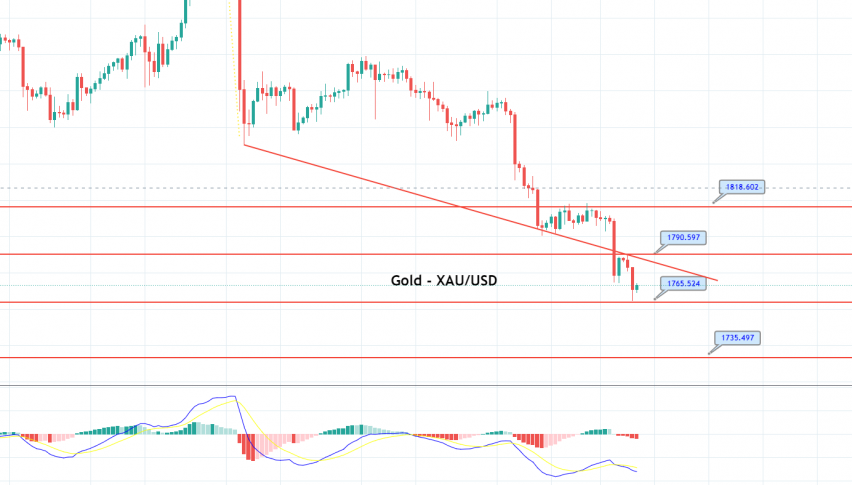 Daily Brief, November 30 – Everything You Need to Know About Gold Today!
Posted Monday, November 30, 2020 by
Arslan Butt
• 2 min read
Good morning traders,
Prices for the precious metal, GOLD, closed at 1,786.81, after placing a high of 1,813.78, and a low of 1,774.27. GOLD fell by almost 2% on Friday, breaking below the critical $ 1,800 level, to it's lowest level in almost five months. The fall in gold prices was due to the rising optimism about a quick economic recovery, fueled by progress in terms of coronavirus vaccines and a smooth transition to the White House for Jow Biden.
The battle against the biggest existential crisis, namely the coronavirus pandemic, has reached a major turning point after the successful development of vaccines by many candidates. Over a period of 2 to 3 weeks, Pfizer & BioNtech, Moderna and AstraZeneca have reported efficacy rates for their vaccines, which have had a major impact on the global financial markets. On Friday, the GOLD prices declined by almost $ 300 from the high in August.
Pfizer and BioNtech have reported that their vaccine is 95% effective in preventing infection with the coronavirus, but their vaccine requires an extremely cold temperature of -70°C for shipment, in order for the vaccine to remain viable, which could pose a major challenge in some locations. At the same time, Moderna said that their vaccine was also 95% effective in preventing the COVID-19 virus, and it remains stable for at least a month at more manageable temperatures of 2° to 8° C, which is roughly the operating temperature of a standard home or medical refrigerator.
The more encouraging news for the risk sentiment was that the European Union has announced that it will fast-track approval for the Pfizer and Moderna vaccine shots, as it is experiencing a huge second wave of the coronavirus in Germany, Poland, France and Spain, all of which have gone back into lockdowns, in an attempt to control the further spread of the virus.
Apart from these two candidates, several other vaccines could be better suited for more widespread distribution. AstraZeneca and the University of Oxford have also reported that their vaccine is 62-90% effective, depending on dosage, and that their vaccine will be cheaper than Pfizer or Moderna vaccine, as it can be stored at higher temperatures, making it more accessible for lower-income nations.
Other than these three candidates, CureVac, Sanofi, GlaxoSmithKline and Johnson & Johnson have also announced that they have potential vaccines for the coronavirus. All these vaccine candidates and the rising optimism have added to the risk sentiment, putting major pressure on the precious metal on Friday.
Meanwhile, with the smooth White House transition, the hopes of a second stimulus bill have increased, as Joe Biden will be sworn into his presidency on January 20. Along with the hopes for the stimulus package, investors also believe that the trade situation will be calmer with other countries, like China, under Joe Biden's administration. These hopes for a calmer approach towards trade have also kept the market mood positive and supported the risk sentiment, weighing on the GOLD prices.