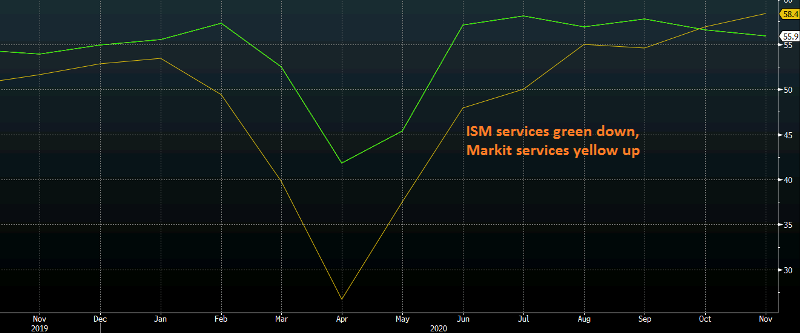 Contradicting Services Report From the US for November
Today we had two employment report getting released from the US, one from ISM and the other from Markit. They were released 15 minutes apart, while showing a totally different picture. Although, this sector remained in a decent shape in both reports, despite the ISM one cooling off. Although, both reports show a decent activity, especially compared to Europe, here the service sector is in recession again.
November final Markit services index 58.4 points vs 57.5 expected
Highest reading since April 2015
Prelim was 57.7 points
October services index was 56.9 points
Hiring rose at the highest pace on record
Input  prices  rose  at  the  quickest  pace  since  data  collection  began  in  October  2009
"Firms sought to pass on higher input costs to clients through an accelerated increase in selling prices. The rise in output charges was the sharpest since the series began over 11 years ago."
The preliminary report was a big market mover last week and the final data is even stronger. The Fed doesn't want to talk about inflation but those are some signs of trouble on the inflation front.
ISM services index for November 2020:
November ISM services index 55.9 vs 55.8 expected
October ISM services index was 56.6
Details:
Business activity 58.0 vs. 61.2 last month
New orders 57.2 vs. 58.5 last month
Backlog of orders 50.7 vs. 54.4 last month
Employment to 51.5 from 50.1 last month
New export orders 50.4 vs. 53.7 last month
Imports 55.0 vs. 52.5 last month
Supplier deliveries 57.0 vs. 56.2 last month
Inventory change 49.3 vs. 53.1 last month
Inventory sentiment 49.9 vs. 51.1 last month
The ISM services report and Markit services PMI are on completely different pages at the moment. This one is at the lowest since May, while the Markit survey is at the highest since 2015.