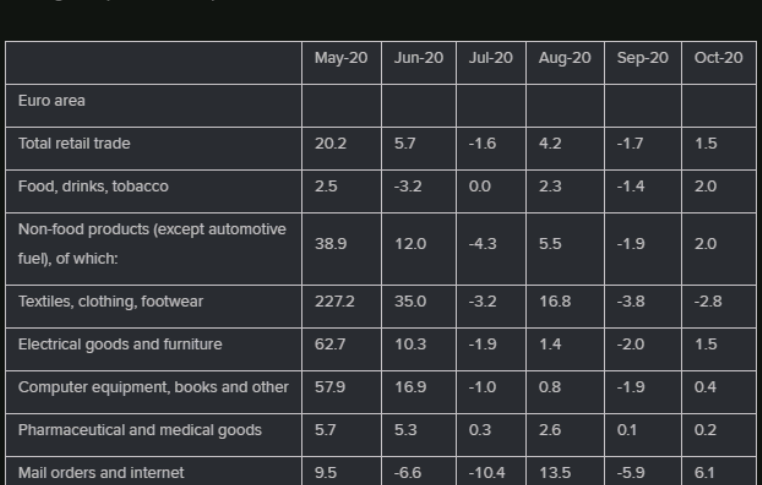 Eurozone Retail Sales Jump in October, Keeping the Euro Bullish
Retail sales were already quite volatile in Europe last year, as the global economy was weakening. They dived hard in March/April as the continent shut down and when the grand reopening took place in summer we saw some strong figures. But, that didn't last long and retail sales have turned volatile again, turning from negative to positive from one month to another. The previous report showed a 2% decline in September, while today's report showed a 1.5% jump higher.
Latest data released by Eurostat – December 3, 2020
October retail sales +1.5% vs +0.7% m/m expected
September sales were -2.0%; revised to -1.7%
Retail sales YoY +4.3% vs +2.6% expected
Prior sales YoY were +2.2%; revised to +2.5%
But it seems like retail sales activity jumped in October, ahead of tighter restrictions implemented from November onward, the remainder of Q4 may yet see more subdued consumption activity. So, that's more relevant to market sentiment than the beat above. The EUR/USD reversed higher again after this report, keeping its bullish bias as it marches above 1.21.