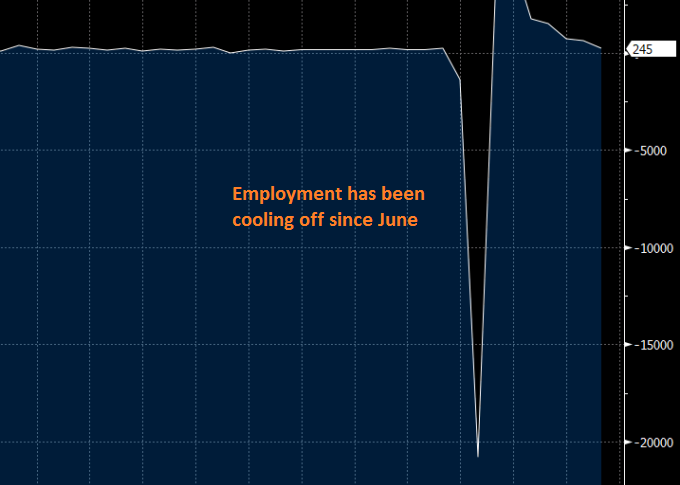 US Employment Cools Off in November, Earnings Increase
The US employment report for November was released a while ago and it was quite mixed. The unemployment rate fell, but so did the participation rate, which balance each-other out. Earnings on the other hand increased, which is a positive factor. But the cool off in new jobs was quite large, which is is weighing on the USD again.
November non-farm employment +245K vs +460K expected
October non-farm employment was 638K
Unemployment rate November 6.7% vs 6.8% expected
October unemployment rate 6.9%
Participation rate 61.5% vs 61.7% expected
Prior participation rate 61.7%
The participation rate declined by 2 points last month, so if participation would have held steady, the unemployment rate would have risen 0.1%.
Underemployment rate 12.1% vs 12.1% prior
Average hourly earnings MoM +0.3% vs +0.1% expected
Average hourly earnings YoY +4.4% vs +4.2% expected
Average weekly hours 34.8 vs 34.8 expected
Two month net revision +11K
Change in private payrolls +344K vs +540K expected
Change in manufacturing payrolls +27K vs +40K expected
Government jobs -99K with 93K of those temporary census workers
The number of long-term unemployed (those jobless for 27 weeks or more) increased by 385,000 to 3.9 million
The FX market isn't quite sure what to do with this. There's a touch of US dollar weakness but it's a mixed bag. Traders bought the USD initially after the report was released, but then it reversed lower and is declining across the board at the moment.
GBP/USD was rejected by the 50 SMA early in December, but is quickly back at it as the USD resumes decline on softer FED rhetoric
2 months ago