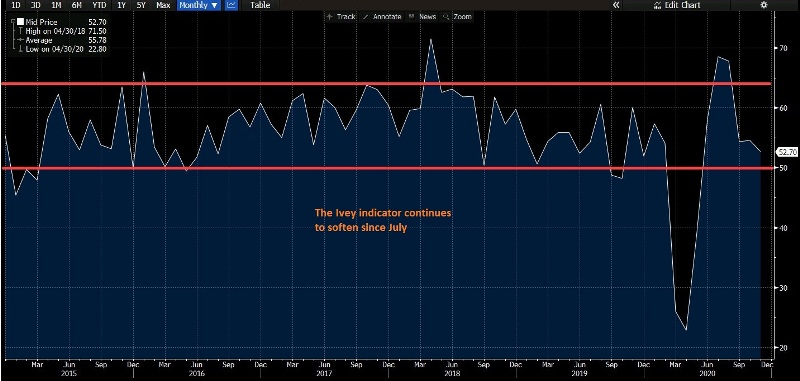 Canadian Economy Continues to Weaken
The Ivey indicator which surveys 175 purchasing managers, dived deep in March and April, suggesting a massive recession in those months, during the lock-downs. In June we saw a massive improvement, which continued in July, but since August this indicator has been declining, which tells us that the economy might head into another recession.
Ivey purchasing managers index for November 2020
Ivey purchasing managers index for November 52.7 vs. 54.7 estimate
Last month index was 54.5
Ivey PMI index 52.7 vs. 54.5 last month
3 month average 53.8 vs. 58.9
Employment 48.1 vs. 56.1 last month
Inventories 49.3 vs. 45.5 last month
Supplier deliveries 34.3 vs. 44.8 last month
Price is 66.1 vs. 63.0 last month
A year ago the index stood at 60.0. In April the index dipped to the low at 22.8.  The high rebound level reached 68.5 in July. Mostly Looking at the chart below, most of the monthly numbers have been mostly centered between the 50 and 65 levels.  The index is pushing toward the lower of that range. Another caveat for the index is that it tends to swing around on a month-to-month basis. Nevertheless the move lower is the 3rd in 4 months.