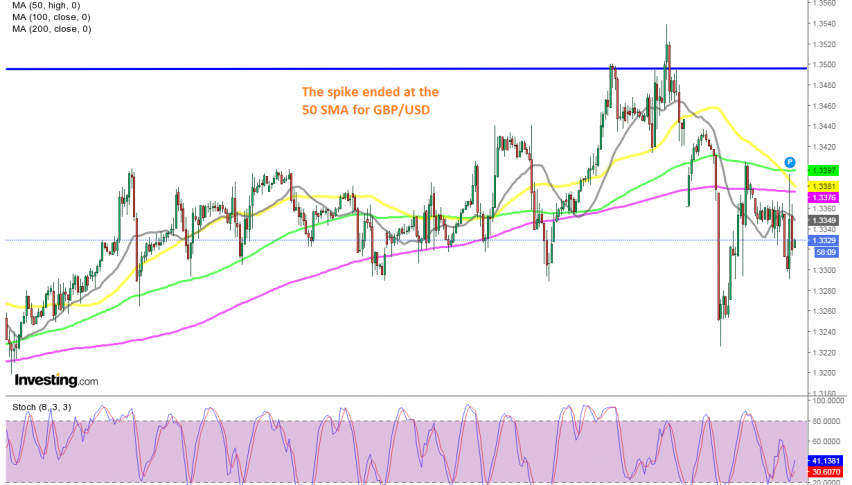 GBP/USD Spikes 100 Pips Higher On Brexit Deal Comments, But Reversed Back Down
The GBP has been very volatile in recent years because of Brexit, but the volatility has increased further as the USD has also become more volatile. last Friday GBP/USD climbed above 1.35, while yesterday it tumbled to 1.3220s, losing more than 200 pips only yesterday. Today, this pair shoot more than 100 pips higher in a quick spike after comments from UK that a Brexit deal has been reached in principle.
UK Comments on A Brexit Deal in Principle
UKs Gove says delighted to announce agreement in principle on all issues in the EU-UK withdrawal agreement joint committee
UK says deal on withdrawal committee joint committee
EU Sepcovic says agreement will ensure withdrawal agreement is fully operational as of 1 January including the protocol on Ireland/Northern Ireland
UK says will withdrawal clauses 44, 45 and 47 of the UK internal market bill not introduce any similar provisions in the taxation bill
The withdrawal of the 3 clauses which broke international law from its Internal Market Bill is a necessary prerequisite to the agreement of any trade deal.   There is still work to be done. However, the market has pushed the GBP/USD higher on the news. GBP/USD jumped to 1.3390s from 1.3290s, but it has given back most of the gains now, so perhaps the rumours aren't true.