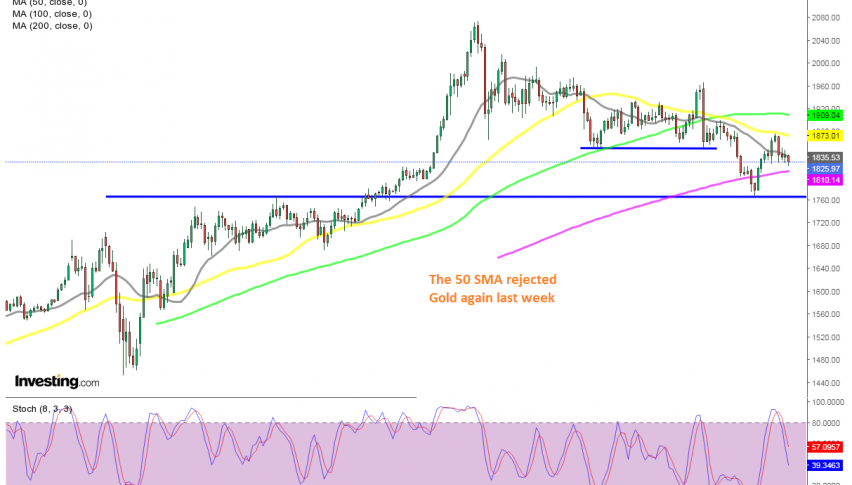 USD Weakness the Only Reason for Bullish Oil, Which Might Pull Back Soon
Crude oil has being doing very well for most of this year. It made quite a reversal in March, coming from around $ -40 after the coronavirus crash back then, following the biggest pin/hammer candlestick, which was a strong bullish reversing signal after that major decline. That was the biggest weekly candlestick ever, worth around $ 57 from top to bottom.
The climb continued after that candlestick, and oil remained bullish until September. In September and October we saw a slight pullback lower, as the USD strengthened, but the bullish trend resumed again in November after the US elections, when the USD turned weaker again.
However, US WTI Crude ran into the 100 SMA (green) on the weekly chart last week, which stopped its climb at $ 47.70. It also formed a doji candlestick, which is a bearish reversing signal, below that moving average, while the stochastic indicator is showing that, at the moment, crude oil is overbought on the weekly chart.
So, technically, crude oil seems overstretched on the weekly chart, and last week's candlestick closed as a doji, which is a reversing signal. The fundamentals are also dovish for oil, with the global economy slowing again and the restrictions increasing in the West. OPEC+ wants to increase production in 2021, after holding production quotas for about a year.
This means that everything is dovish for oil, but this commodity trades in USD, which means that it strengthens when the USD weakens. Now the USD is in a bearish phase, so it remains to be seen whether the weak greenback will have a bigger impact than the fundamentals and technical analysis in oil. But, if the USD decline stalls soon, or if the greenback starts to climb, oil will turn bearish soon.