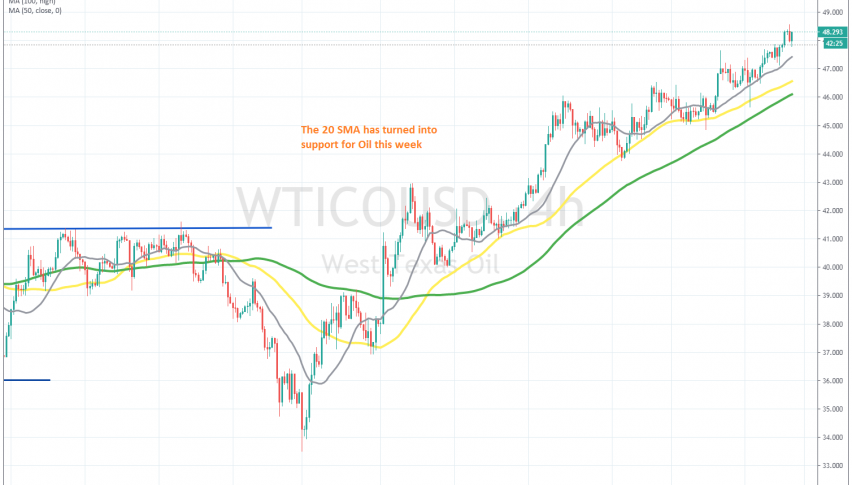 Crude Oil Heading for $ 50, as MAs Keep Pushing it Higher
The global economy has been quite weak this year, due to the coronavirus and after a bounce in summer after the lock-downs, it seems like it is heading down again, due to the new restrictions. Nonetheless, crude oil has been increasing since April, after WTI came back from the grave at around $ -40 back then.
Oil still has some distance to cover, in order to recuperate the losses from Q1 of this year, but with buyers pushing higher, it looks like US WTI Crude will be heading towards the $ 50 level soon. We did see a slight pullback in September/October, but it ended back then and the bullish trend resumed again.
The highs at $ 43.50 were broken in the last week of November, as the USD weakened further. In fact, the weakness of the USD has been driving crude oil higher, since the global economy is weakening again and oil is traded in dollars. Both risk commodities and safe havens such as gold are surging higher. The weaker the USD, the more expensive oil gets.
The 50 SMA (yellow) has turned into the ultimate support for crude oil, while this week the 20 SMA (gray) is doing that job, which shows that the pace of the uptrend is increasing. We haven't traded oil recently, but we will try to open a buy signal if the moving averages hold when the price retraces down. So, we are waiting for a pullback in order to go long here.