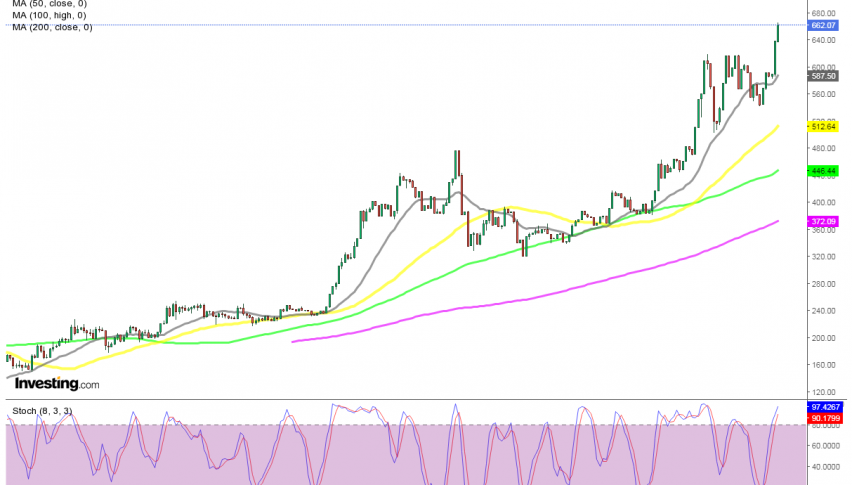 Cryptocurrencies Continue the March Higher, With Bitcoin Printing $ 23,500
The crypto market has been absolutely surging in the last two months. Cryptocurrencies have turned into safe havens this year, as it has become increasingly dangerous to buy anything else, with the world politics and probably the economy in a process of change, coupled with the volatility that has been induced this year.
Cryptocurrencies are also volatile, but they are keeping most of the price action to the upside. It seems like the use of the digital currencies is speeding up now, with all the changes throughout the world this year, so they are attracting some strong demand for this reason.
BITCOIN has been leading the way up, obviously; in September this altcoin was trading at around $ 11,000, while yesterday it broke above $ 20,000, and today it is surging higher again, reaching $ 23,500. I was thinking of buying the retrace down to $ 20,000 yesterday, if there was such a thing, but it didn't happen, and buyers kept pushing relentlessly higher.
ETHEREUM has also been surging. Last month we saw some decent pullbacks lower, but the 20 SMA held as support, and today Ethereum broke above November's highs, pushing to $ 660s. LITECOIN is also making some strong bullish moves, breaking above $ 100 today for the first time in more than a year. We have a buy Litecoin signal from $ 90, so this trade looks good now.