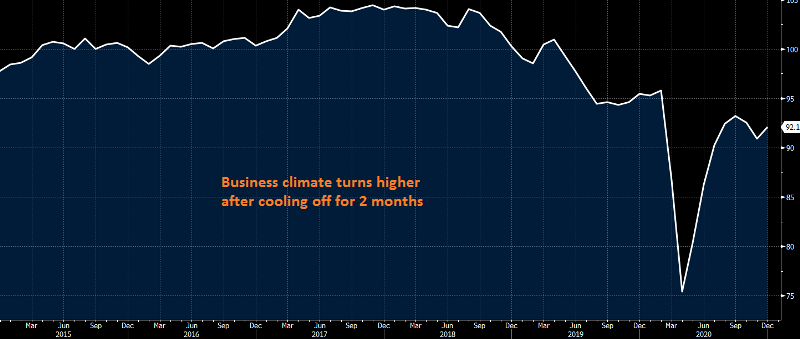 Business Climate in Germany Improves in December
The business climate indicator dived really hard in the Eurozone during spring, falling to 75 points from around 95 points before the coronavirus crisis. The business climate improved after the reopening in summer, but in autumn it turned lower again, as the Eurozone economy started to weaken once again.
However, today's report showed another jump in December, albeit small, but important nonetheless, since it breaks the declining streak of the last two months. The EUR/USD was retreating today before the report, but it turned higher after it was released.
Germany December ifo Business Climate Index
December ifo business climate index 92.1 points vs 90.0 expected
November business climate 90.7 points; revised to 90.9 points
Expectations 92.8 points vs 92.5 expected
November Expectations 91.5 points; revised to 91.8 points
Current assessment 91.3 points vs 89.0 points expected
Prior Current assessment 90.0 points
There was a slight delay in the release by the source. German business morale improved more than expected, despite tighter restrictions being introduced to curb the spread of the coronavirus.
Vaccine optimism is one thing, but the figures also capture the period before the latest restrictions came into play. The ifo says 20% of the survey responses were captured after the second lockdown was announced, but before it kicked into effect. Either way, the more optimistic tone is not going to present much in the way of worries for risk trades for the time being, when paired together with the PMI readings from earlier this week.