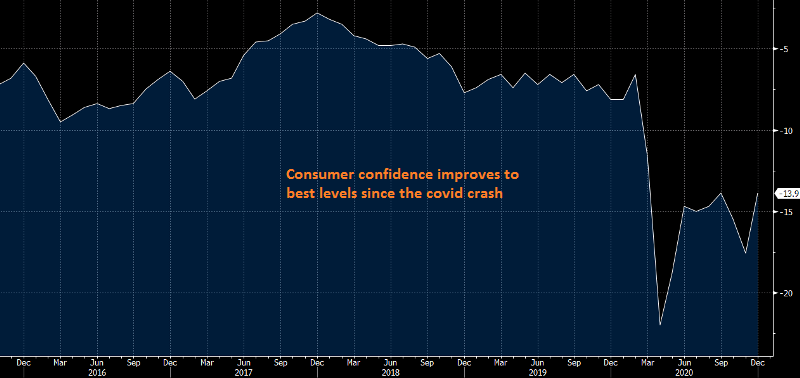 Consumer Confidence Improves in Europe, EUR/USD Moves Above the 50 SMA Again
The consumer confidence has been negative in the Eurozone for more than two years. it deteriorated further after the coronavirus broke out in Europe in March. We saw an improvement in summer after the reopening of the continent, following the lock-downs in spring, but in November it turned lower at -18 points, as the restrictions increased once again in Autumn. This month was expected to be the same, but the confidence improved instead.
Eurozone December Consumer Confidence Report
December flash consumer confidence -13.9 points vs -17.3 expected
November consumer confidence was -17.6 points
The uptrend continues for EUR/USD
This is a surprise bounce and matches the best level since the pandemic.
EUR/USD
went through a decent pullback today, opening with a gap lower last night and retreating around 150 pips down from the top, but the 50 SMA (yellow) held as support on the H4 chart and the price bounced off that moving average.