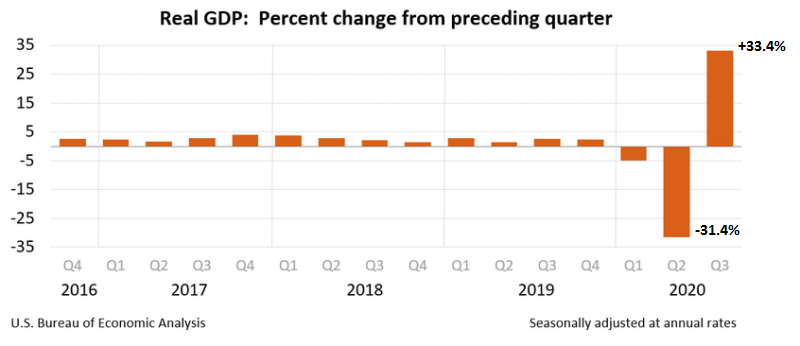 Q3 GDP Remains the Best Reading Ever in the US
The US economy went through a record crash in Q2 of this year, which came during the lock-down months. The first reading showed a 33% decline in the GDP during the second quarter, which was revised lower to 31.4%, but in the first reading of q3 we saw a massive reversal and a 31% surge, which was revised higher to 33.1% in the second reading. Today, the last estimate was expected to remain unchanged, but was revised higher again to 33.4%.
US Q3 GDP (3rd Estimate) Annualized
Q3 GDP (third look) % q/q annualized +33.4% vs +33.1% expected
Second reading +33.1%
Details:
Ex motor vehicles +26.7% vs +26.4% in second reading
Personal consumption +41.0% vs +40.6% in second reading
Corporate profits after tax +27.0% vs +27.5% in second reading
GDP price index +3.7 vs +3.6% in second reading
Core PCE q/q +3.4 vs +3.5% in second reading
Inventories added 6.57 pp to GDP vs 6.55 pp in 2nd report (subtracted 3.5 pp in Q2)
Business investment +22.9% vs +21.8% in second reading
Business investment in equipment +68.2% vs +66.6% in second reading
Exports +59.6% vs +60.5%  in second reading
Imports +93.1% vs +93.1%  in second reading
GDP was a touch higher on better consumption but it's nothing to change the underlying picture of the economy going forward.