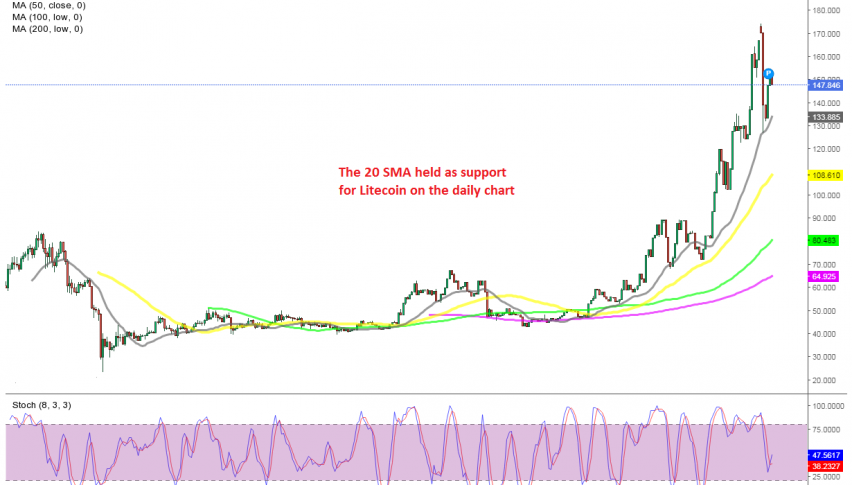 The Retrace Down is Over in Cryptos, as Ethereum and Litecoin Bounce off the 20 Daily SMA
Cryptocurrencies totally changed their reason for existence last year. For about a decade, they acted as risk assets, aimed at forming a parallel financial system for payments outside of the major banking industry. But, last year, they turned into safe havens, to which traders and investors would turn, in order to store their cash.
As a result, they turned massively bullish in 2020, and in the last few months, the increase has picked up incredible pace. Bitcoin got pretty close to $ 42,000, while Ethereum just missed all time highs, increasing to $ 1,345 last Sunday. Litecoin increased to $ 175.
But on Monday, we saw a decent retrace down in the crypto market. BITCOIN lost around $ 11,000, as it fell to $ 30,380, while ETHEREUM lost nearly half its value, as it fell below $ 1,000. That raised questions about whether the strong bullish trend in cryptos was over, and if a crash would follow, like the one we saw in  2018, after the surge at the end of 2017.
Is the bullish trend back on?
But, this time the situation was different; back then cryptocurrencies didn't have the safe haven status they have now. So, chances were that the 2017-18 scenario wouldn't repeat again, and it seems like it is not going to. The decline seems to have stopped at the 20 SMA (gray) on the daily chart for both. LITECOIN bounced off that moving average more than $ 25 this week, while Ethereum gained around $ 300.  So, buyers are back in charge, and now the price is heading for the highs again in cryptocurrencies. The bis remains bullish for crypto traders and we should try to buy pullbacks lower.