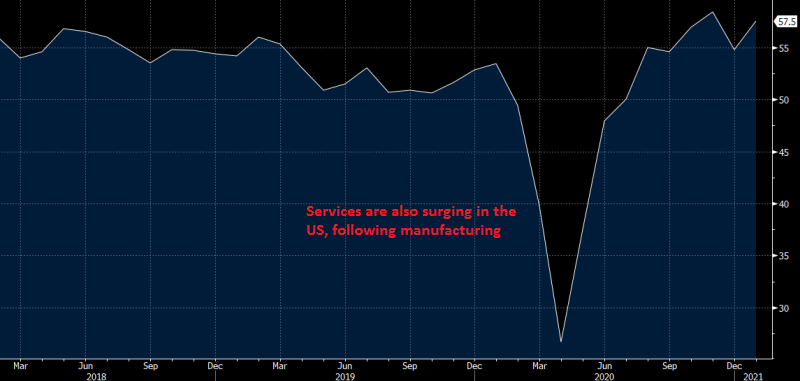 Joe Biden Inherited the US Economy at A Great Moment
The transition of power in the US is now official and overall it went smoothly. There was the Capitol Hill scenario, although that wasn't anything to shake the markets. There were some expectations for protests on inauguration day this week, but nothing happened. So, Joe Biden is now the new president of the United States, who got the power at a really good moment for the US economy.
The US economy bounced strongly in Q3 after the lock-down crash in Q2 and unlike Europe which is headed into another recession, it has been keeping a strong pace of recovery. The GDP expanded by 33.4% in Q3, while it is expected to increase by more than 4% in Q4. The employment sector has been performing fairly well as well, with the unemployment rate falling below 7%, while JOLTS jobs have been exceeding expectations too.
In November they increased to 6.65 million, but was expected to cool off in December, as the ADP employment report showed last week. Although, JOLTS jobs beat expectations once again, keeping up the strong pace of recovery/expansion, showing that the US economy is performing really well.
November JOLTS Jobs Openings Report December
November JOLTS job openings 6,527K vs 6,400K expected
October JOLTS job openings were 6,652K (revised to 6,632K)
Pace of hiring +4.2% vs. +4.1% last month
3.156M people quit a job in November vs 3.150m prior.
The quitting rate remained unchanged at 2.2% vs 2.2% prior
Separations rate 3.8% vs. 3.6% in October
Layoffs and discharges 1.4%  vs. 1.2% in October
This paints a picture of a jobs market that slightly softened in November and we say that it's the non-farm payrolls report for the month. Expect the slight weakness to continue in December and likely in January as well, but the US employment is still at a great shape compared to other economies.
Inflation took a deep dive in the first several months of 2020 in the US, as crude Oil prices tumbled lower, slashing down prices for goods and services. Although, it held its head above water at 0.1% in April/May, while in other regions inflation turned negative. In the Eurozone inflation softened further in the last few months, falling to -0.3% since September. The US CPI inflation softened a bit as well, but it picked up again in November and today's December data is showing another increase.
Inflation is keeping a positive trend and after the stimulus packages form the government and the FED, it should pick up further in the coming months, which would force the FED to evaluate the monetary policy, as the recent comments have shown. So, once the sentiment changes, the USD will turn quite bullish, given that everything remains stable politically and socially in the US.
December US Inflation Report
US December CPI YoY +1.4% vs +1.3% expected
November CPI YoY was +1.2%
Core CPI YoY ex-food and energy 1.6% vs +1.6% expected
CPI MoM +0.4% vs +0.4% expected
Prior CPI MoM was +0.2%
CPI MoM ex-food and energy +0.1% vs +0.1% expected
Prior core CPI MoM ex-food and energy was +0.2%
Wage data:
Real average hourly earnings YoY +3.7% vs +3.2% prior
Real average weekly earnings YoY +4.9% vs +4.7% prior
ISM Manufacturing Report
MANUFACTURING AT A GLANCE
December 2020
Index
Series Index
Series Index
Percentage
Direction
Rate of Change
Months
Dec
Nov
Point
Change
Manufacturing PMI®
60.7 points
57.5 points
3.2 points
Growing
Faster
7
New Orders
67.9 points
65.1 points
2.8 points
Growing
Faster
7
Production
64.8 points
60.8 points
4 points
Growing
Faster
7
Employment
51.5 points
48.4 points
3.1 points
Growing
From Contracting
1
Supplier Deliveries
67.6 points
61.7 points
5.9 points
Slowing
Faster
14
Inventories
51.6 points
51.2 points
0.4 points
Growing
Faster
3
Customers' Inventories
37.9 points
36.3 points
1.6 points
Too Low
Slower
51
Prices
77.6 points
65.4 points
12.2 points
Increasing
Faster
7
Backlog of Orders
59.1 points
56.9 points
2.2 points
Growing
Faster
6
New Export Orders
57.5 points
57.8 points
-0.3 points
Growing
Slower
6
Imports
54.6 points
55.1 points
-0.5 points
Growing
Slower
6
OVERALL ECONOMY
Growing
Faster
8
Manufacturing Sector
Growing
Faster
7
The US manufacturing sector continues to impress. In fact, manufacturing rebounded well worldwide in summer after the lock-downs, but the US manufacturing has performed extremely well. It keeps increasing and today's report showed another jump, taking the ISM indicator above 60 points.
We saw a cool off in November, but the expansion resumed again in December and now this indicator is heading for all time highs. This should be positive for the USD, but the Buck is waiting for politics to set a path for the future.
ISM manufacturing increased above 60 points early this month, while later on, US services showed a jump above 57.2 points in December, from 45.5 in November. So, the US economy is expanding pretty fast, which is a nice bonus to Biden.
Markit January prelim US services PMI
January prelim US services PMI 57.5 vs 53.4 expected
December services PMI was 54.8
Manufacturing 59.1 vs 56.5 expected
Prior manufacturing 57.1
Composite 58.0 vs 55.3 prior — second fastest since 2015
The rate of input cost inflation was the fastest on record (since October 2009), notably in PPE and transportation
Services pace of new business growth softened on covid
Manufacturing new orders rose markedly