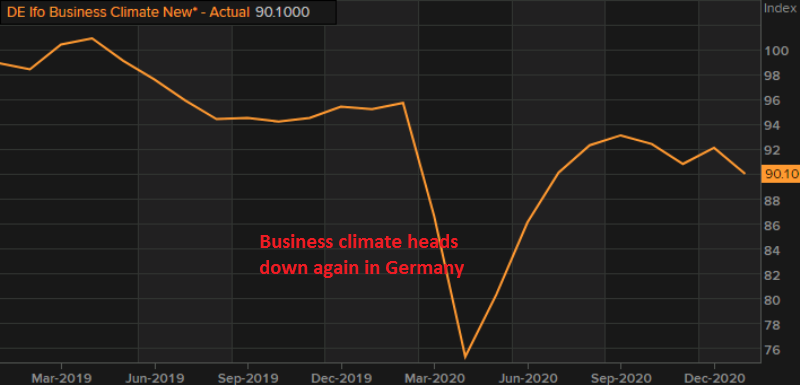 Germany Starting 2021 on a Deteriorating Economic Sentiment
The German economy has been holding out better than most of the European economies, one of the reasons being their lock-downs starting later than other countries. But, with the recent coronavirus restrictions, which started late last year and are being extended now, the economy is heading down again, particularly in the service sector, which has fallen into contraction. The business climate is deteriorating as well, as shown in the report below:
January Ifo Business Climate Index Germany
January Ifo business climate index 90.1 points vs 91.4 expected
December business climate index 92.1 points; revised to 92.2
Expectations 91.1 points vs 93.6 expected
Prior 92.8 points; revised to 93.0 points
Current assessment 89.2 points vs 90.6 expected
December current assessment 91.3 points
There was a slight delay in the release by the source. It is a weak report overall, as even the expectations component fell, missing the estimates. That alludes to some suggestions that the virus situation is affecting business morale as a whole. The EUR/USD turned bearish after that release.
That said, we'll see if it will be reflected in the hard data, and whether the outlook will grow slightly better, with German cases having sort of hit a plateau recently. European equities are seeing a more mixed picture, with the brighter start earlier paring back. The dollar has also trimmed some of its losses to some extent in the past hour.
Comments by Ifo economist, Klaus Wohlrabe
German economy starting the new year with little confidence
Industry continues to be well positioned, export expectations have risen
But retail has collapsed
Many service providers also affected by lock-downs, including transport and logistics
Expect GDP stagnation in Q1
That's not an encouraging assessment, with the subdued services activity also somewhat reflected by the weaker PMI readings in January, which were reported here last week. If the tighter restrictions are prolonged until Easter, a double-dip recession is certainly on the cards.