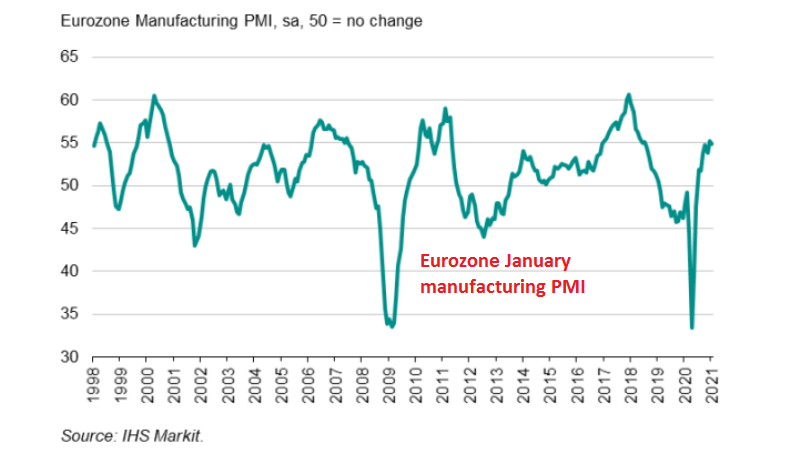 Manufacturing Keeping the pace in Europe, Except in Spain
Manufacturing has been performing well in Europe during the second round of lockdowns, unlike in the first round when it took a dive, together with services and every other sector of the economy. But this time round, production continues and manufacturing keeps expanding, except in Spain, where it declined in January.

European Manufacturing PMI January
Germany January final manufacturing PMI 57.1 points vs 57.0 prelim
France January final manufacturing PMI 51.6 points vs 51.5 prelim
Italy January manufacturing PMI 55.1 points vs 52.4 expected
Highest reading since March 2018. Prior was 52.8 points
Spain January manufacturing PMI 49.3 points vs 50.9 expected
December manufacturing was 51.0 points
Switzerland January manufacturing PMI 59.4 vs 56.8 expected
Prior was 58.0 points; revised to 53.7
UK January final manufacturing PMI 54.1 vs 52.9 prelim
Little change to the initial estimate as also noted in the French and German reports earlier. This mainly just reaffirms that factory conditions are holding up decently, despite tighter virus restrictions in the region.
Markit Notes:
"Eurozone manufacturing output continued to expand at a solid pace at the start of 2021, though growth has weakened to the lowest since the recovery began, as new lockdown measures and supply shortages pose further challenges to producers across the region.

"Supply chain delays worsened during the month, to a degree only exceeded once – during the global lockdowns early last year – in more than two decades of survey history.

"At the moment, manufacturing is providing an important support to the economy, as the service sector is hit by COVID-19 restrictions, but this support is waning. Consumer goods producers in particular are struggling. While future prospects brightened, with the manufacturers' optimism striking a three-year high in January, which sounded a reassuring note of confidence at the start of the year, any potential delays in vaccine roll-outs will put an additional layer of uncertainty on the outlook.

"Meanwhile, supply shortages have put pricing power in the hands of suppliers, pushing raw material prices sharply higher. Increased shipping costs are adding to the burden. These price pressures should ease once more supply capacity comes online, although there remains some uncertainty about how much pent-up demand exists and how sticky these higher prices may prove to be."
Eurozone manufacturing fell in contraction this month while recession is heading there, which points toward recession
4 weeks ago