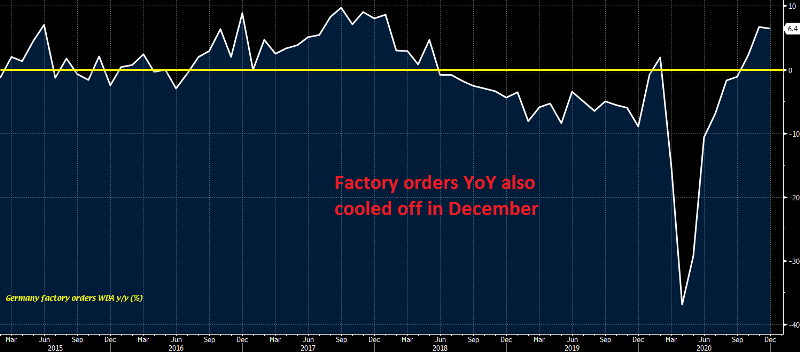 Does the Decline in German Factory Orders Indicate Trouble for Manufacturing?
The manufacturing sector has been performing quite well all over the world during the second round of coronavirus restrictions. Services are in recession in Europe, but manufacturing is catching up with the US, as the activity keeps expanding. However, today's factory orders for December showed a considerable decline for that month, suggesting that manufacturing activity might slow in the coming month.

December Factory Orders, Germany
December factory orders MoM -1.9% vs -1.0% expected
November factory orders MoM were +2.3%; revised to +2.7%
Factory orders WDA YoY +6.4% vs +6.7% expected
November order YoY were +6.3%; revised to +6.7%
German industrial orders slipped a little towards the end of last year, but the year-on-year reading indicates that they have remained higher overall. This points to a modest recovery in factory conditions after the slump caused by the virus crisis. That said, the data here is not of much relevance, as the market remains more focused on the Q1/Q2 outlook for now.
The economic indicators are getting worse in Europe as inflation surges, which will weigh further on the Euro
8 months ago