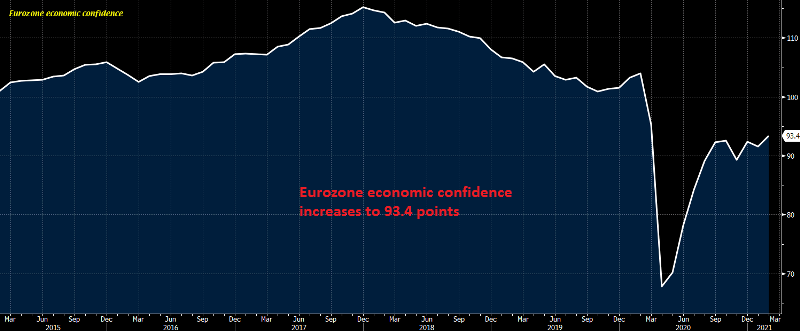 Economic Confidence Improves in Europe
Earlier this morning, we saw the German GfK consumer climate improve, but it remains negative at -12.9 points. Later on, the consumer confidence report form the Eurozone also came in above expectations, but the consumer confidence remains negative at -14.8 points. Despite that, the EUR/USD is more than 100 pips higher today.
Eurozone February Consumer Confidence
Economic confidence February 93.4 points vs 92.1 expected
January confidence was 91.5 points
February final consumer confidence -14.8 points vs -14.8 prelim
Industrial confidence -3.3 points vs -5.0 expected
Prior -5.9 points; revised to -6.1
Services confidence -17.1 points vs -17.4 expected
Prior -17.8 points; revised to -17.7
Euro area economic confidence has improved slightly in February, as there is some degree of optimism flowing in terms of the outlook ahead of the summer. However, present conditions continue to be affected by tighter restrictions, so that is a factor to consider.
Remarks by ECB chief economist, Philip Lane
ECB is closely monitoring the evolution of long-term nominal bond yields
We will need to provide ample monetary accommodation for an extended period