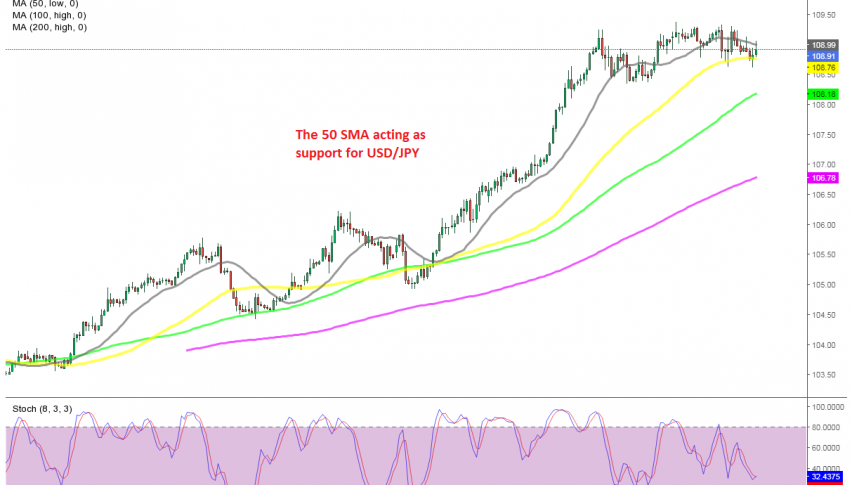 JPY Remains Weak, As BOJ Holds the Monetary Policy Unchanged
The JPY was bullish last year, attracting bids as the uncertainty remained high in financial markets, benefiting the safe haven currencies like the JPY and the CHF. But, this year the JPY turned bearish, sending USD/JPY surging higher, as most economies are expanding at a great pace.
USD/JPY increased around 9 cents from the bottom, but it has been consolidating around 109, finding support at the 50 SMA (yellow) on the H4 chart, waiting for the Bank of Japan meeting earlier today. The BOJ left the policy unchanged, so USD/JPY is resuming the bullish momentum again now.
BOJ Governor, Haruhiko Kuroda Press Conference
It is appropriate to continue with current policy framework
New interest scheme to ease the impact of lowering rates further
The rate levels on the scheme can be adjusted
Priority is to keep entire yield curve low amid the virus crisis
ETF purchases are effective in times of severe instability
We did not expand the yields band with today's decision
BOJ simply clarified its view on the yields band
Some yield fluctuations are positive for market function
Does not intend to reduce ETF purchases or exit from stimulus policy
ETF purchases are not undermining stock market function
If we deepen negative rates, we will tweak interest based on the new scheme
Not thinking about widening JGB yields band for now
Too early to debate exit from stimulus policy
BOJ chose to track Topix for ETF purchases to reduce impact on individual stocks
Kuroda says that there is no contradiction with Amamiya's comments (which suggested that the BOJ should expand the yields band) on yields. So, I guess we have the answer as to why Kuroda is making these comments.
It is interesting to see him lead with the introduction of the new interest scheme, which is pretty much him trying to imply that they are still on the dovish side of things.