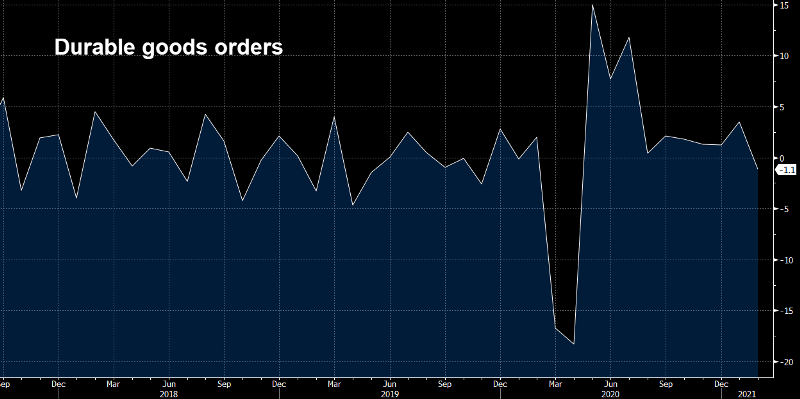 US Durable Goods Orders Turn Negative, But Services and Manufacturing Remain Upbeat
The US manufacturing and services PMI reports were released a while ago today, showing some cool off. Although, manufacturing and services remain in decent shape, around 60 point. Durable goods orders turned negative in January. Although this comes after orders remained positive for about a year and after a strong reading in December, as we covered in our economic calendar.
US February Prelim Durable Goods Orders
February prelim durable goods orders -1.1% vs +0.5% expected
Prior was +3.4% (revised to +3.5%)
Durables ex transportation -0.9% vs +0.5% expected
Prior ex transportation +1.3% (revised to +1.6%)
Capital goods orders non-defense ex-air -0.8% vs +0.5% expected
Prior capital goods orders non-defense ex-air +0.4% (revised to +0.6%)
Capital goods shipments non-defense ex-air -1.0% vs -1.0% expected
Prior capital goods shipments non-defense ex-air +1.8% (revised to +1.9%)
This is a soft report and the first big miss in awhile but the market reaction has been minimal. This is the first decline since last April so the market is likely to forgive it, especially if the Markit manufacturing survey at 1345 GMT is strong.
Markit US March Prelim Services and Manufacturing
March prelim services 60.0 vs 60.1 expected
Prior was 59.8
Manufacturing 59.0 vs 59.5 expected
Prior manufacturing 58.6
Composite 59.1 vs 59.5 prior
Services new business at highest since June 2014
These numbers are a touch soft compared to expectations but the services survey is at the highest since July 2014, so it's hardly bad news.
The cost side is interesting with services input prices at 72.7 vs 70.1 at the highest since the survey started in 2009. Admittedly, that's not a long track record.
It's a similar story in manufacturing with input prices at 74.9, which is the highest since March 2011.
The report touches on some of the reasons for higher prices and the ramifications:
Unprecedented supply chain disruptions pushed price gauges higher once again. The overall rate of input cost inflation accelerated to the fastest on record as raw material, PPE and fuel prices reportedly soared. Stronger demand conditions allowed for the partial pass-through of costs to clients, with the overall pace of selling price inflation also hitting the sharpest on record.
Here is Markit chief economist Chris Williamson:
"Another impressive expansion of business activity in March ended the economy's strongest quarter since 2014. The vaccine roll-out, the reopening of the economy and an additional $1.9 trillion of stimulus all helped lift demand to an extent not seen for over six years, buoying growth of orders for both goods and services to multi-year highs.

"Producers were increasingly unable to keep pace with demand, however, due mainly to supply chain disruptions and delays. Higher prices have ensued, with rates of both input cost and selling price inflation running far above anything previously seen in the survey's history."
Eurozone services for July were revised higher today after the really weak numbers we saw in the first reading
2 weeks ago