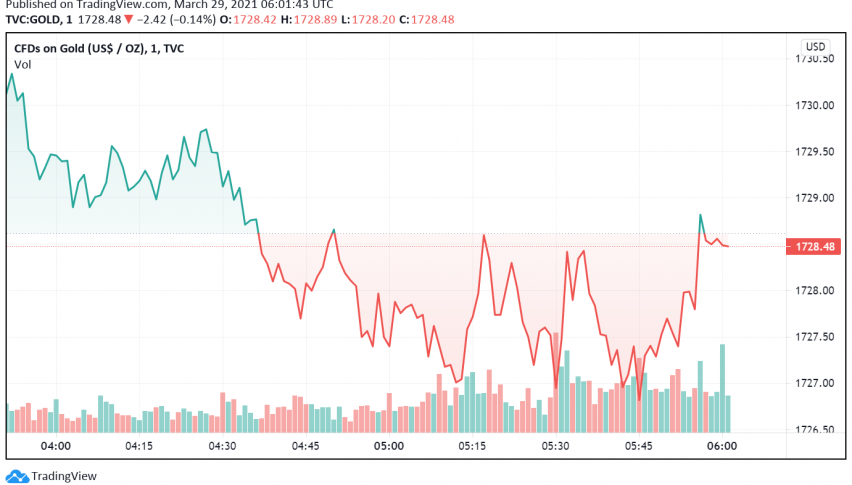 Safe Haven Appeal of Gold Dents Even as Dollar Finds Strength
Posted Monday, March 29, 2021 by
Arslan Butt
• 1 min read
Gold prices are on the decline at the beginning of a brand new trading week, as the US dollar finds strength against its major rivals even as the overall market sentiment improves and weakens the safe haven appeal of the yellow metal. At the time of writing, GOLD is trading at a little above $1,728.
The US dollar is making gains against other leading currencies as markets are eagerly expecting the US economy to make rapid recovery on the back of strong COVID-19 vaccine rollouts and multiple rounds of stimulus support. As we know, whenever the greenback becomes stronger, gold becomes more expensive for holders of other currencies, hence driving down its demand in the international market, which exerts a downward pressure on its prices.
Gold has also been weakening as the risk appetite among investors improves, increasing the demand for equities and other riskier instruments. The market sentiment has been bolstered by optimistic economic data releases recently, including a surge in China's industrial profits during the beginning of this year.
However, gold finds some support from a sharp fall in US consumer spending during the month of February, weakening to the lowest level seen in 10 months due to the unusually cold weather. Meanwhile, officials at the BOE have hinted at the possibility of unleashing more stimulus measures to support the UK economy, which could also support the precious metal.